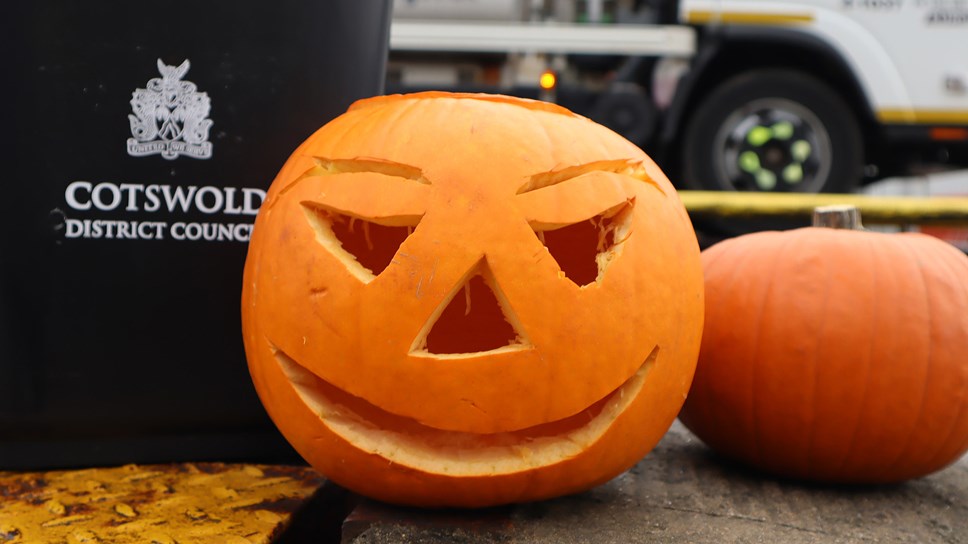 125,000 meals could be rescued this Halloween in the Cotswolds
Cotswold District Council is encouraging residents to eat up their Halloween pumpkins this year to reduce food waste and help the planet.
By cooking and consuming their pumpkins Cotswold households could rescue 125,000 meals from the bin, saving tens of thousands of pounds in the process.
According to sustainability charity Hubbub, 15.8 million edible pumpkins worth £26.7 million pounds will be thrown away this year in the UK. And while flavours will vary between varieties, even pumpkins sold primarily for carving, are packed with vitamins, rich in fibre and perfectly edible.
In fact, every part of a pumpkin - from the seeds, the pulp, the flesh to the skin - can be eaten with the small exception of the stalk.
Uneaten pumpkin can also be added to a home compost bin or recycled at the kerbside using Cotswold District Council's weekly food waste collection service, removing all lights, candles, wax and decorations first.
Councillor Mike McKeown, Cabinet Member for Climate Change and Sustainability at Cotswold District Council, said: "The number of pumpkins that will go uneaten in the UK could provide enough food for 95 million meals. In the Cotswolds, that equates to over 125,000 meals that could be rescued from the bin. But it's not just the food that's wasted when it's thrown away, but all the energy invested in growing, harvesting and transporting it as well. Food production contributes massively to greenhouse gas emissions, accounting for around one-third of total emissions, so it's important that pumpkins are not simply considered a throwaway decoration but are valued and used.
"That's why this year we're encouraging residents to celebrate their Halloween pumpkins to make them go further – whether that's by including them in soups, risottos and curries, toasting the seeds, or as an ingredient in sweet recipes like cakes and pies.
"There's even a growing trend towards decorating, rather than carving, pumpkins. Opting for the 'no-carve' option, not only helps maintain the pumpkin's freshness, enabling it to be stored for many weeks or months, but a safe and creative way to involve younger family members in the celebrations too."
The Love Food Hate Waste website has money-saving advice and tips for reducing food waste including seasonal pumpkin recipes: Six ways to eat your Halloween pumpkins | Love Food Hate Waste
Cotswold District Council provides a weekly food waste collection for all households. Residents who don't currently have a food waste caddy can pick one up from the District Council's offices in Cirencester or from the Moreton Area Centre, Moreton-in-Marsh. Alternatively caddies can be ordered online at: https://www.cotswold.gov.uk/orderabin
Kitchen caddies can be lined with newspaper or unwanted plastic bags, such as old carrier bags and used bread bags. Compostable bags can still be used if residents wish.
Cotswold residents can take advantage of reduced rates on compost bins available through Gloucestershire Recycles, the countywide waste reduction campaign. In addition to 'buy one get one half price' offers on compost bins, residents can currently buy a single 330-litre compost bin for just £10. To order a bin simply call 0844 571 4444 or buy online at: https://getcomposting.com/ A £6.99 delivery charge applies.
Contact Information
Cotswold District Council Communications Team
Notes to editors
According to environmental charity Hubbub: 30.4 million pumpkins will be brought for decorating with 15.8 million of these set to be wasted (the equivalent of £26.7 million worth of edible food - approximately 40p per person in the UK)
2021 census recorded 90,800 residents for Cotswold District.
For more recipe ideas to use up pumpkins: https://www.bbcgoodfood.com/recipes/collection/pumpkin-recipes