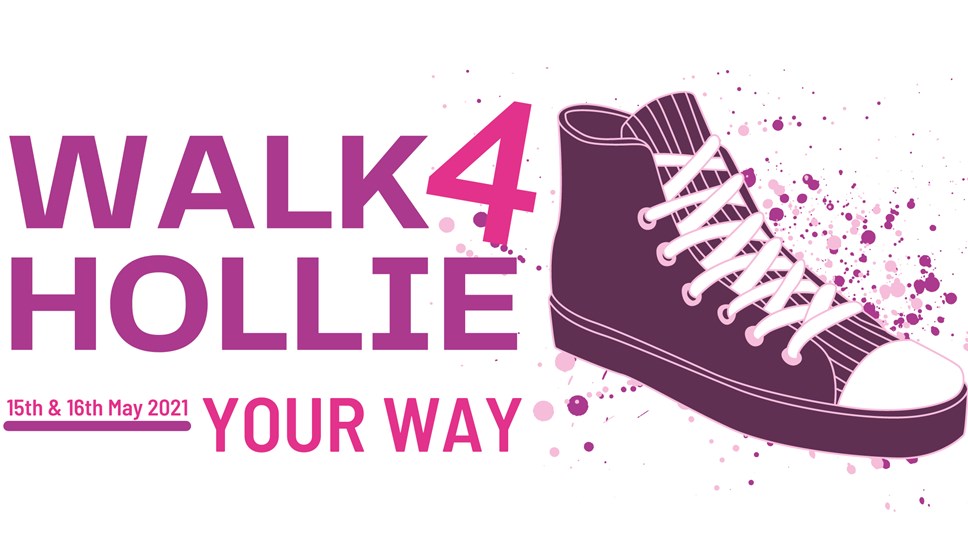 Annual Charity Walk4Hollie Goes Virtual to help prevent domestic abuse
The Hollie Gazzard Trust's Walk4Hollie is taking place virtually this year - so you can Walk4Hollie your way to raise money and help prevent domestic abuse and stalking.
Cotswold District Council is throwing its support behind this year's virtual walk as part of its commitment to support local communities.
Jacqueline Wright, Community Wellbeing Manager at Cotswold District Council, said: "It's wonderful to see the Walk4Hollie is going ahead this year in a virtual form. We know that many residents in the Cotswolds enjoy a good walk so we would like to encourage everyone to sign up for this year's event and help to raise awareness of domestic abuse and stalking."
The Walk4Hollie usually sees hundreds of people across Gloucestershire in support and was unfortunately cancelled last year due to the pandemic. This year's event is taking place virtually on Saturday 15 and Sunday 16 May.
By going virtual, participants can take part with friends, family and smaller groups provided they adhere to government Covid-19 guidelines while raising money for the good cause.
Hollie Gazzard Trust is asking participants to get involved over the virtual weekend by completing a walk of 3km, 5km or a full 10km, to wear an item of pink or purple clothing and to take a selfie and post to social media using the hashtag #Walk4Hollie2021.
The charities aim is to promote the dangers of knife crime, reduce the level of domestic abuse and stalking.
Rebekah Grant, the event organiser for Hollie Gazzard Trust, says: "Due to Covid restrictions this year's Walk4Hollie will take place virtually. We may not be able to gather in large crowds as we have in the past - but this means people can walk wherever suits them - anywhere in the country and choose their own distance to complete. To enter Walk4Hollie Your Way the trust is asking for a minimum donation of £5 per person.
"If you would like to challenge yourself with your Walk4Hollie and raise additional funds, you can set up your own fundraising page by clicking Start Fundraising.
Once set up your page you can ask your friends, family and work colleagues to sponsor you. We have fantastic prizes for the 3 people who raise the most amount of funds taking part in this event."
Nick Gazzard, added: "Walk4Hollie Your Way is an important event to remember Hollie and raise much-needed funds for The Trust. Our ability to fundraise has been decimated by the impact of Covid- 19, at a time when our work to prevent domestic abuse and stalking is needed more than ever."
For more information, please contact event organiser Rebekah Grant via email: rebekah@holliegazzard.org
To get involved with the Walk4Hollie and to donate, please visit: holliegazzard.enthuse.com
If you would like to organise a fundraiser or require more information please contact The Trust via fundraising@holliegazzard.org.
Contact Information
Cotswold District Council Communications Team
Notes to editors
Please feel free to use the attached video on your websites or social media channels. You can download the video, here: https://we.tl/t-kBGx8G9aTt
The Hollie Gazzard Trust was set up by Nick Gazzard following the death of his daughter Hollie, who was stabbed to death while at work at Fringe Benefits & La Bella Beauty Salon, Gloucester. The charity's aim is to promote the dangers of knife crime, reduce the level of domestic abuse and stalking, and to help support and fund young hairdressers in Gloucestershire through a partnership with Gloucestershire College.
HollieGuard is available on operating systems: Apple and Android. For more information please visit the website hollieguard.com while the Hollie Gazzard Trust can be found online holliegazzard.org and on social media channels.
Hollie Gazzard Trust
Registered charity no. 1156804
info@holliegazzard.org
+44 7538 575229
For further info contact on this contact: Jonathon Rooke of Straight-PR on 01285 640021, 07999767555 or email contact@straight-pr.co.uk