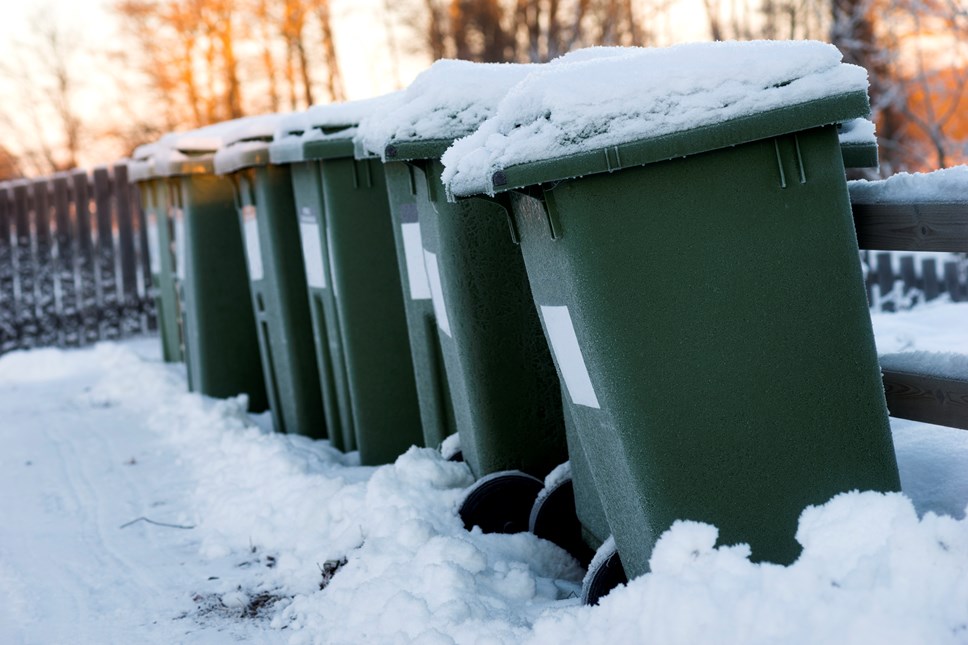 Christmas and New Year waste collection changes
Waste and recycling collection dates in the Cotswolds have been updated for the holiday season.
Cotswold District Council's waste and recycling collection service provider, Ubico Ltd, will be making normal collections up to and including Thursday 24 December. Crews will NOT be working on Friday 25 December and Friday 1 January.
As a consequence, there will be changes in collection days until the normal schedule resumes on Monday 18 January 2021.
The collection days will change as follows: (please note that crews will be working on two Saturdays to catch up - 9 and 16 January 2021). Download your waste collection calendar here.
We will be allowing side waste for every household's first full collection after Christmas Day; residents will be able to leave out additional amounts of non-recyclable waste in bin liners next to their grey wheeled bin/beige refuse bags.
The collection schedule will return to normal on the week beginning Monday 18 January 2021.
The Household Recycling Centres are open 10 am to 4 pm and each site is closed one day per week (Fosse Cross and Oak Quarry closed Tuesdays, Pyke Quarry and Wingmoor Farm closed Wednesdays, and Hempsted closed Thursdays).
Everyone visiting the Household Recycling centres is required to prebook their visit to gain access to these sites. Social distancing will be required on-site, and to minimise queues and waiting times the number of booking slots available will be limited.
For details of all HRCs in Gloucestershire plus a wide range of information about recycling best practice please visit www.gloucestershirerecycles.com
North Cotswold district residents should note that we have an agreement permitting the use of the Shipston on Stour recycling centre in Warwickshire. For more information and opening times for that site, please visit www.warwickshire.gov.uk
Christmas tree shredding
Please note that real Christmas trees can be taken to the following Garden Centres after Christmas Day for recycling up until 17 January 2021. (Once collected they are recycled into a soil conditioner for agricultural land):
Residents who subscribe to our garden waste recycling collection service will be able to recycle their used real Christmas trees by placing them in their green coloured bin. Please ensure that the tree is broken into manageable lengths so that it will fit comfortably in the bin, with the lid completely closed – plastic to plastic.
For queries and further information about the Christmas collections and general information about the waste and recycling services, please visit www.cotswold.gov.uk/bins or contact the CDC Waste Hotline on 01285 623123.
Contact Information
Cotswold District Council Communications Team