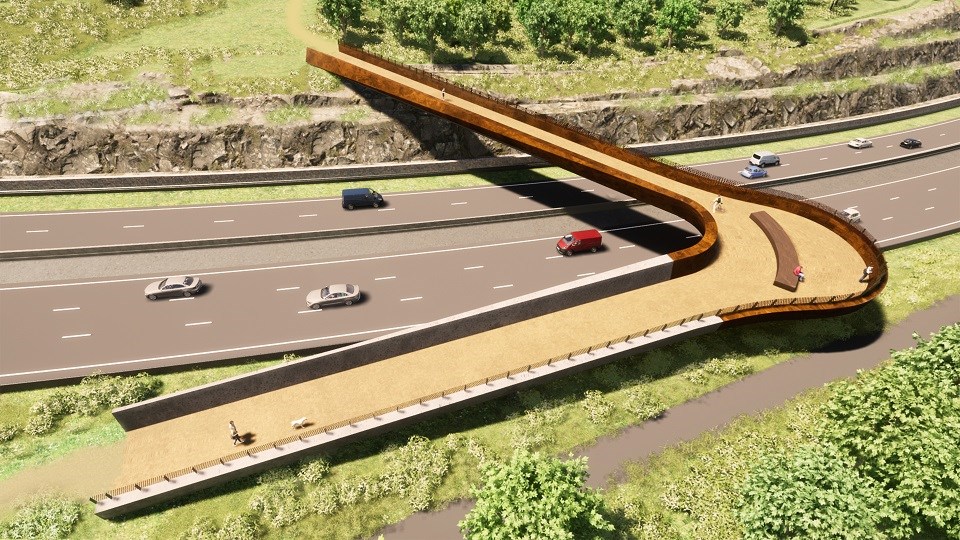 Consultation launches for A417 'Missing Link' designs
Highways England has today (Tuesday 13 October 2020) launched a consultation on its updated designs for the 'A417 Missing Link'.
The planned upgrade of the A417, a key route linking the South West and Midlands, will see a single lane stretch of carriageway between the Brockworth bypass and Cowley roundabout in Gloucestershire, upgraded to dual carriageway, considerably benefitting road users, local communities and businesses.
Michael Goddard, Senior Project Manager for the A417 Missing Link scheme, said: "As a result of your feedback, we've made some improvements to our proposals which will benefit local connectivity, accessibility and reduce the scheme's impact on communities, the environment, and the local landscape. As part of the planning process, we're required to consult on our proposed design."
Cllr Joe Harris, Leader of Cotswold District Council, said: "This is the biggest infrastructure project our area has seen in a generation. It's important you have your say to help shape the scheme."
Transport Minister, Baroness Vere, said: "The proposed upgrades to the A417 will benefit all road users in Gloucestershire by boosting capacity, cutting congestion, and improving connectivity between local economies. Highways England is keen to hear residents' feedback on the changes, and are committed to getting the project underway as swiftly as possible."
The supplementary statutory consultation runs from Tuesday, 13 October to Thursday,12 November 2020 with feedback helping Highways England develop its application for a Development Consent Order to be submitted early next year.
One of the best ways to find out more about the proposals and have your say is to visit Highways England's online exhibition. You can access this via http://www.highwaysengland.co.uk/a417-missing-link – there are dedicated times when you can chat or video call with members of the project team who'll be happy to answer any questions you may have.
If you do not have access to the internet or experience problems downloading the consultation materials, Highways England can send free of charge one printed copy of documents including the consultation booklet, feedback questionnaire, and a Freepost return envelope to your home, which are available on request by calling 0300 123 5000 or emailing A417MissingLinkatAirBalloon@highwaysengland.co.uk
Contact Information
Cotswold District Council Communications Team
Notes to editors
How to have your say
From 13 October you can submit a response by using one of the methods below, which are all free to use.
Online response form
Fill in the online survey: https://highwaysengland.citizenspace.com/he/a417-missing-link-supplementary-consultation
Freepost
Post your response for or comments to:
FREEPOST A417 MISSING LINK
(The Freepost address is the only text needed on the envelope, and no stamp is required)
Email
Email your comments to: A417MissingLinkatAirBalloon@highwaysengland.co.uk
Dedicated times when you can chat to project team
Tuesday 13 October, 11am – 2pm
Tuesday 13 October, 6pm – 8pm
Friday 16 October, 8am – 11am
Friday 16 October, 4pm – 7pm
Saturday 17 October, 9am – 1pm
Tuesday 20 October, 11am – 2pm
Thursday 22 October, 6pm – 9pm
Saturday 24 October, 1pm – 4pm
Tuesday 27 October, 8am – 11am
Thursday 29 October, 2pm – 5pm
Monday 2 November, 10am – 1pm
Monday 2 November 6pm – 9pm
Wednesday 4 November, 4pm – 7pm
Saturday 7 November, 9am – 1pm
Tuesday 10 November, 8am – 11am
Tuesday 10 November, 6pm – 9pm
Thursday 12 November, 8am – 11am
Five live question and answer events, focusing on different topics.
Safety, traffic and engineering Q&A, Monday 19 October, 9.30 - 11am
Landscape, wildlife and habitats Q&A, Tuesday 20 October, 9.30 - 11am
Local access and public rights of way Q&A, Wednesday 21 October, 9.30 - 11am
Land, property, business and tourism Q&A, Thursday 22 October, 9.30 - 11am
Looking ahead; submission, examination and construction Q&A, Friday 23 October, 9.30 - 11am
At these events, the project team will give a short presentation to camera and then take questions from attendees.