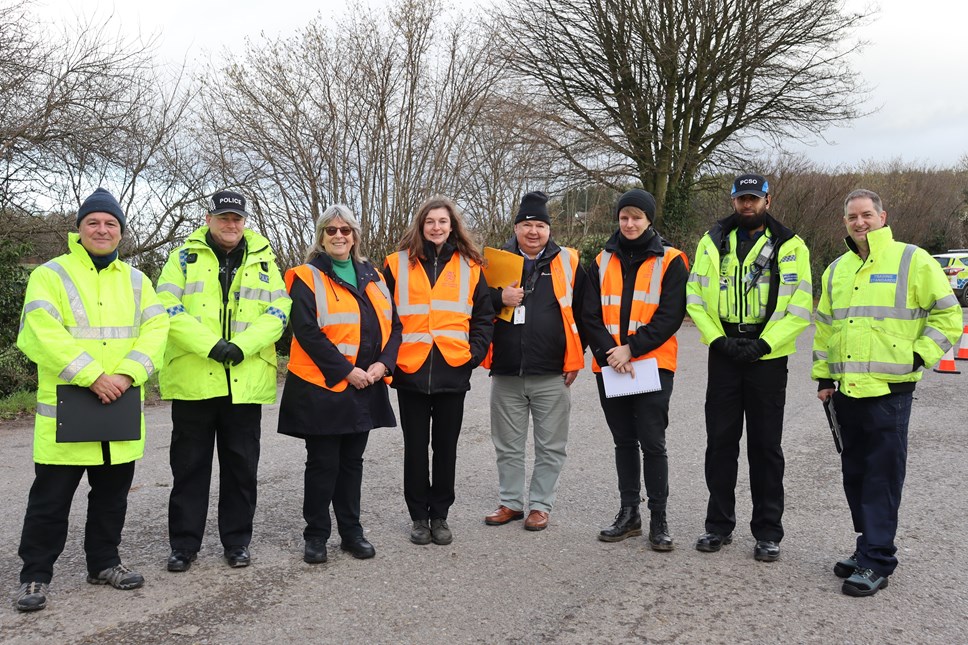 Continuing our fight against fly-tipping
Cotswold District Council joined forces with Gloucestershire County Council Trading Standard and Gloucestershire Police to carry out a Stop and Search operation as part of our commitment to stop fly-tipping in the district.
Cllr Juliet Layton, Cabinet Member for Development Management and Licensing at Cotswold District Council, said, "At Cotswold District Council we are committed to clamping down on illegal fly-tipping. It is so important for us to work together with Gloucestershire County Council Trading Standards and local Police to try and put an end to illegal activity here in the Cotswolds.
"Working together has enabled us to carry out this 'Stop & Search' and engage with mobile businesses and waste carriers. What we are seeing more frequently is illegitimate waste removal services offering cheap prices, who are not licensed and very often cut corners to dispose of the waste dangerously and illegally.
"We hope by carrying out these 'Stop & Search' operations, those who are illegitimately removing waste will think twice before doing so and together we can help keep our countryside clean and communities safe."
Being proactive as a Council and taking these measures is so important to stop fly-tipping in our district. The purpose of the Stop and Search operation was to check waste carriers were licensed and carrying the correct documentation. Our Environmental Regulatory Service Officers were on hand to offer advice about the different types of licences needed to carry different types of waste.
During the Stop and Search operation, 32 vehicles were stopped. No fixed penalty notices were issued after a search of the vehicles, however one warning letter was issued which gave the waste carrier 14 days to obtain and/or submit their licence to the Council. The waste carrier successfully submitted their licence and no further action was necessary.
Kevin Lea, Enviro-Crime Programmes Officer at Cotswold District Council, said, "The operation was primarily about stopping anyone who was carrying waste illegitimately, but also to educate those waste carriers in our district to remind them of the documentation they need to carry when transporting waste.
"I want to remind residents that it is their Duty of Care to ensure their waste is being disposed of correctly. If they are paying someone to remove their waste they must check that the waste carrier has two crucial documents: a Waste Carriers Licence and Waste Transfer Notes. Anyone who is carrying waste illegitimately will not have these two documents.
"If a waste carrier disposes of waste illegitimately, it may be traced back to the householder and they will be subject to pay a £400 fixed penalty notice. Always be vigilant when paying someone to remove your waste!"
If you witness an incident of fly-tipping, please report it as soon as you can. That gives our officers the best chance of catching the perpetrators.
To report illegal fly-tips, please visit: ttps://cotswold.gov.uk/environment/report-fly-tipping/
If you have any questions on fly-tipping or responsible waste disposal, please email: ers@cotswold.gov.uk
Contact Information
Cotswold District Council Communications Team