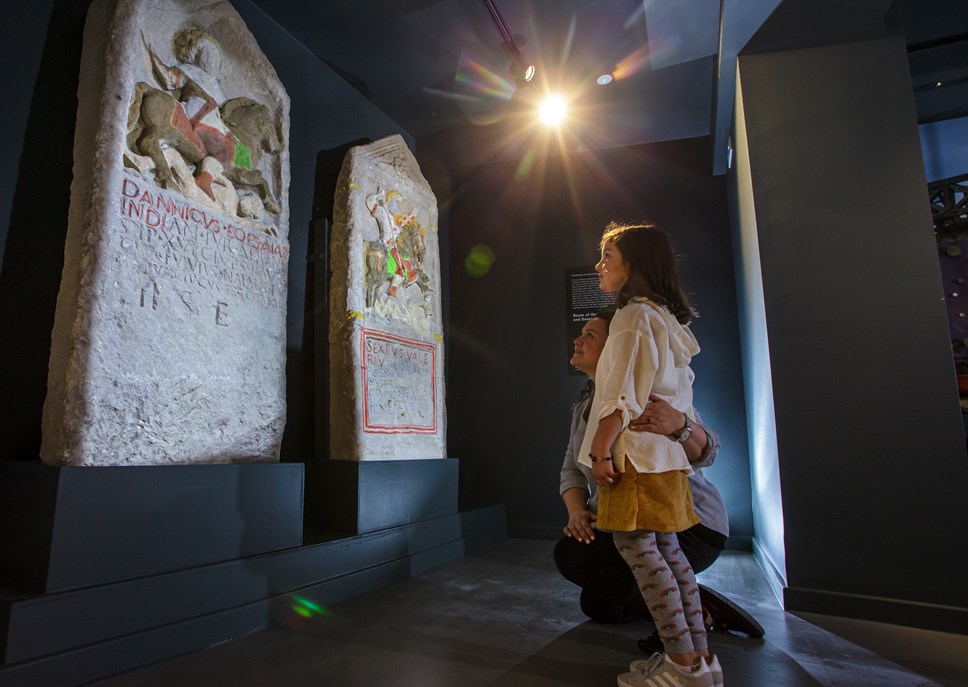 Corinium Museum excited to re-open from Monday 17 May with brand new galleries and opportunities for everyone to explore our Cotswold history
The award-winning museum, renowned for its Roman Cirencester exhibits, is set to re-open on Monday 17 May in line with the Government's reopening roadmap.
The Museum will be open from 10 am to 5 pm Monday through to Saturday, and 2 pm to 5 pm on Sundays so you can enjoy a great day out with friends, Romans, and countryfolk.
Cllr Jenny Forde, Cabinet Member for Health and Wellbeing at Cotswold District Council, said: "Corinium Museum is one of the 'must-see' attractions in the Cotswolds and it's wonderful that we can finally re-open the doors to everyone.
"I would really urge anyone who hasn't been before to make a visit, it is a brilliant day out for individuals or families to find out more about our amazing local history.
"We have put a number of measures in place in line with Government guidance so visitors can be confident that the journey through the museum will be a pleasant and safe experience for all."
Amanda Hart, Corinium Museum Director, announces: "At long last, we can re-open. It's been a tough time for many of us, and especially hard-hitting for our Museum. I would like to take this opportunity to thank the staff, supporters and friends of the Museum for all their hard work and support.
"We have something for all ages and whether you are local or visiting, the museum has lots of fascinating exhibits exploring the diverse and exciting history of the Cotswolds.
"I would also like to reassure visitors that our immersive and spacious Museum is absolutely ready to extend a warm welcome and we cannot wait to see you."
The museum has continued to grow with new immersive exhibits and activities added to make the museum experience even better, including:
New Exhibits - Discover the archaeology of the Cotswolds. Get up close and personal with objects that are hundreds of thousands of years old in the New Immersive Exhibits that are now fully open in the New Stone Age to Corinium Galleries.
New Annual Family Memberships are now available to purchase, and newly available for 2021 are the attractive, bright and fun Gift Membership Cards: please consider giving and receiving a Corinium Museum Membership. Visit the Museum website to view Membership details and benefits.
The new digital outreach programme continues on Thursday 13th May at 7 pm with a digital talk given by Katharine Walker, the prehistorian who specialises in the Neolithic of northwest Europe, on 'Imported Neolithic Axe-heads in Britain: Untangling the narratives'.
Amanda, added: "This latest lockdown has given us time to work on some great new formats and offerings for our visitors and supporters which are really interesting.
"The 'Discover the archaeology of the Cotswolds' is really fantastic and gives visitors the chance to explore the rich heritage of our area in ways not seen before.
"Our new membership cards look good and feel good to both give and receive! All we ask is that you consider supporting our Museum by buying a gift membership as a great, sustainable, reusable gift to give."
To continue with social distancing requirements, the number of visitors to the museum will be limited and tickets will need to be booked in advance online at coriniummuseum.org.
The Museum achieved the Visit Britain's 'We're Good To Go' industry standard last year by demonstrating adherence to the respective Government and public health guidance and the implementation of new safety measures.
Contact Information
Cotswold District Council Communications Team
Notes to editors
What Else Will You Find At Corinium Museum?
The Welcome Desk doubles as Cirencester's Visitor Information Centre.
The Winstone Learning Centre in the Grade II-listed part of the Museum has been redeveloped to become a modern Discovery Centre with displays and facilities available to hire for schools and groups.
The new gift shop with a large range of unique gift ideas.
The Café and Garden, in collaboration with Jacks and Relish.
The new art gallery with an artist exhibition every six/eight weeks.
About the Corinium Museum
The Corinium Museum is located at the heart of Cirencester, the 'Capital of the Cotswolds'. Corinium is the Roman word for Cirencester. The principal collection consists of the highly significant finds from the Roman town of Corinium. However, the museum today is much more than that, taking you on a journey through time and charting the development of the Cotswolds from its prehistoric landscape to the modern-day.
For all media enquiries please contact Kathryn Allison, kathryn@iprcommunications.co.uk Tel: 0776 458 5017