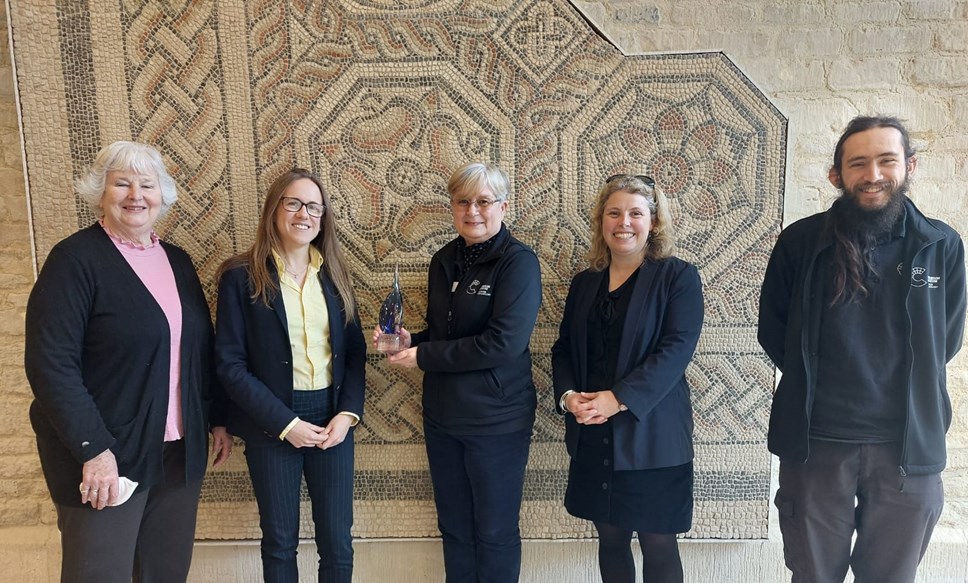 Corinium Museum wins bronze award for 'Small Visitor Attraction of the Year'
One of the jewels in the Cotswold crown, Corinium Museum, has been recognised with a bronze award from the South West England Tourism Excellence Awards for Small Visitor Attraction of the Year. The award was presented to the Council-owned museum in April.
Councillor Jenny Forde, Cabinet Member for Health and Wellbeing said, "If you live in Cirencester you will know what a wonderful asset our Corinium Museum is. For the museum to be recognised as a regional visitor attraction is testament to the uniqueness and wider appeal of this local gem.
"This award will raise the profile of the museum, Cirencester and Cotswold District as a whole, increasing appeal to a wider audience and ensuring we are firmly on the visitor map. This will have such a positive effect on the tourism economy and, our businesses and communities.
"The forthcoming Bank Holidays at the beginning of June present the perfect opportunity to come and experience the museum. Younger visitors can get involved in a Jubilee trail around the museum galleries, or there's the opportunity to attend the Queen's Platinum Jubilee Art Event on Tuesday 31 May between 10:00 am-12:30 pm."
Our Corinium Museum has also been shortlisted in the category of Cultural Venue of the Year in the SoGlos Lifestyle Awards 2022. The finalists for this award will be announced on Wednesday 1 June 2022.
The Museum holds large and internationally significant collections of archaeology, social and rural history and has arguably the finest and most extensive Romano-British collection, in the world. The museum also includes a Visitor Information Centre, shop, Roman Garden, cafe and a number of new galleries.
For more information on the collections at Corinium Museum, opening times, admission costs and an array of events please visit their website https://coriniummuseum.org/
Contact Information
Cotswold District Council Communications Team