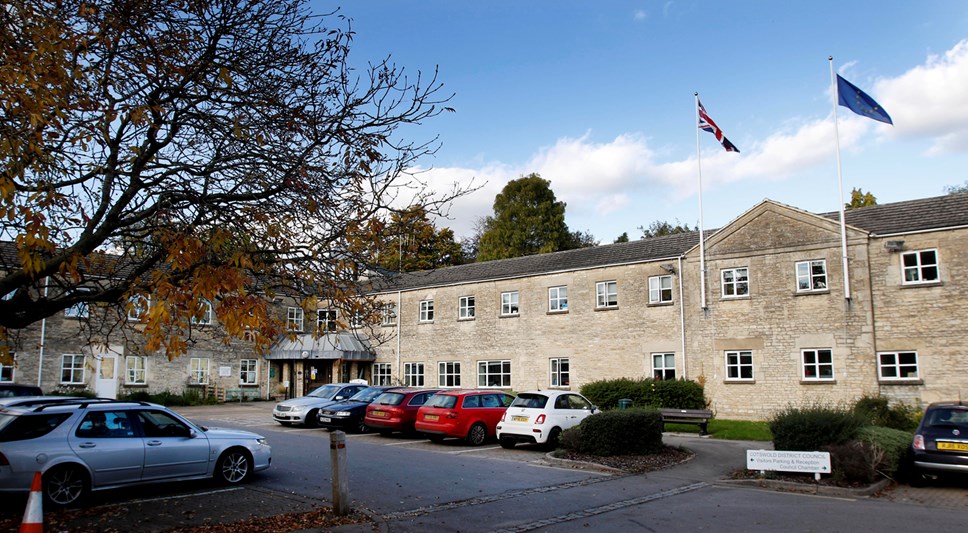 Cotswold District Council £1.2m funding success fuels carbon reduction plans
Cotswold District Council has secured funding of over £1.2m to install carbon reduction and energy efficiency measures at three council-owned premises, boosting the Council's ambition to make drastic cuts in emissions arising from its own activities over the next few years.
The grant has been awarded by the Department for Business, Energy and Industrial Strategy (BEIS) through the Public Sector Decarbonisation Scheme, which supports public bodies - such as local authorities and schools - to implement projects to reduce carbon emissions within their own buildings and estates.
The leisure centres at Cirencester and Bourton-on-the-Water, as well as the District Council's satellite Moreton Area Centre offices, can expect their 'green' revamp to start in the next few months. The works will include roof-mounted solar photovoltaic panels, high efficiency air-source heat pumps, ventilation heat recovery systems in the swimming pool halls and LED lighting.
Taken together, the measures should save the District Council over £40k per year in energy bills and reduce emissions of the global warming pollutant, carbon dioxide, by around 240 tonnes of CO2 per year - the equivalent of 10% of the Council's total annual emissions.
Councillor Rachel Coxcoon, Cabinet Member for Climate Change and Forward Planning at Cotswold District Council, said: "Whilst our Climate Strategy sets out our aim of reaching at least an 80% reduction in our carbon emissions by 2030, our ultimate goal is to reach net-zero as quickly as possible. We are delighted to have been successful in our bid for funding through the Public Sector Decarbonisation Scheme, which will cover 100% of the capital investment needed to undertake the planned works across the three sites. A quarter of all Council emissions is from burning gas to heat municipal buildings and leisure centres, so to be able to take major steps to reduce these, with the potential to achieve our carbon reduction targets sooner, is welcome news.
"We are determined to lead by example and demonstrate to both businesses and residents the environmental and financial benefits that can be achieved from adopting more sustainable technologies and cleaner energy sources to tackle the climate crisis."
The Council will provide further information on the timing of installations in the next few months once contractors are in place and the final schedule of works agreed.
Cotswold District Council plans to make its activities net-zero carbon as soon as possible, aiming for a 100% reduction by 2045, with no reliance on offsetting or the trading of carbon credits. The Council aims to use 100% clean energy across its full range of functions as soon as possible and by no later than 2030.
Details of Cotswold District Council's Climate Strategy can be found at: https://www.cotswold.gov.uk/environment/climate-action/cotswold-climate-and-ecological-emergencies/
Contact Information
Cotswold District Council Communications Team