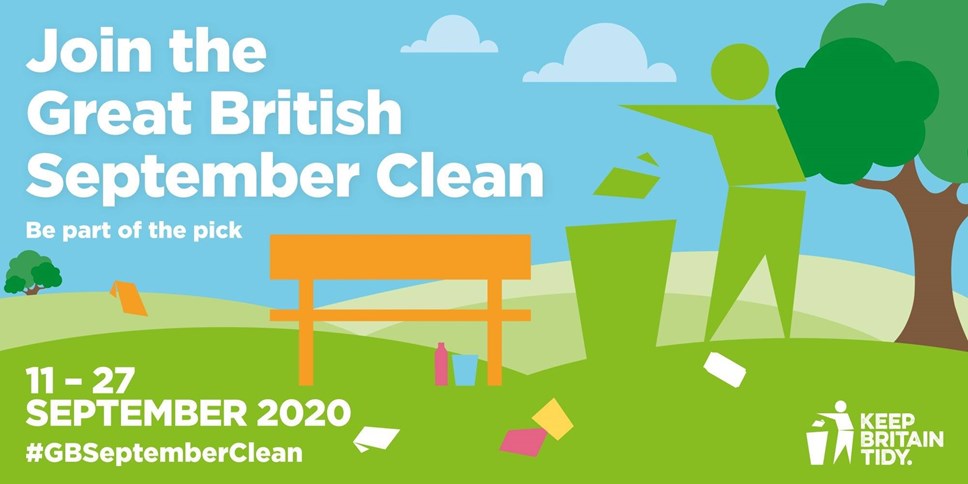 Cotswold District Council lends support to litter heroes to support Keep Britain Tidy campaign
This week sees the launch of Keep Britain Tidy's Great British September Clean (11-27 September) - the national campaign which encourages more of us to get involved in keeping litter off our streets and out of the environment.
This year the focus is very much on keeping everyone safe whilst out litter picking, which is why Keep Britain Tidy is asking would-be 'litter heroes' to get together in groups of six or less to clean up in their local community in order to comply with current government guidance.
Local authorities across the country are lending their support too by providing black sacks to residents and collecting in the bags of litter during the campaign.
Councillor Andrew Doherty, Cabinet Member for the Environment, Waste and Recycling at Cotswold District Council said: 'Litter is a persistent and widespread problem and left untouched can last for many decades - even centuries - in the environment so we are delighted to support the Great British September Clean to get more of us thinking about litter and what we can do to reduce it.'
'Whether it's picking up a few pieces whilst walking the dog or on the school run or a more organised activity, litter picking offers a great opportunity to get outside and do something positive for the local community and the environment. We are delighted to help residents in the Cotswolds join in with this year's activities so anyone needing sacks or wanting to organise a collection of the litter they have collected just need to get in touch with us to arrange this. Obviously, with coronavirus still uppermost in our minds, it is important that litter picks are undertaken safely and guidance on this can be found on the Keep Britain Tidy website (www.keepbritaintidy.org) too.'
It is estimated that litter costs local authorities £1b annually to clear up.
Cotswold residents wanting litter sacks delivered or to arrange a collection should contact the district council on 01285 623123 or email: cdc@cotswold.gov.uk. Sacks left out for collection must be placed in a publicly accessible spot.
Details on how to pledge support for this year's Great British September Clean can be found at www.keepbritaintidy.org.
Contact Information
For media enquiries, please contact the Communications Team