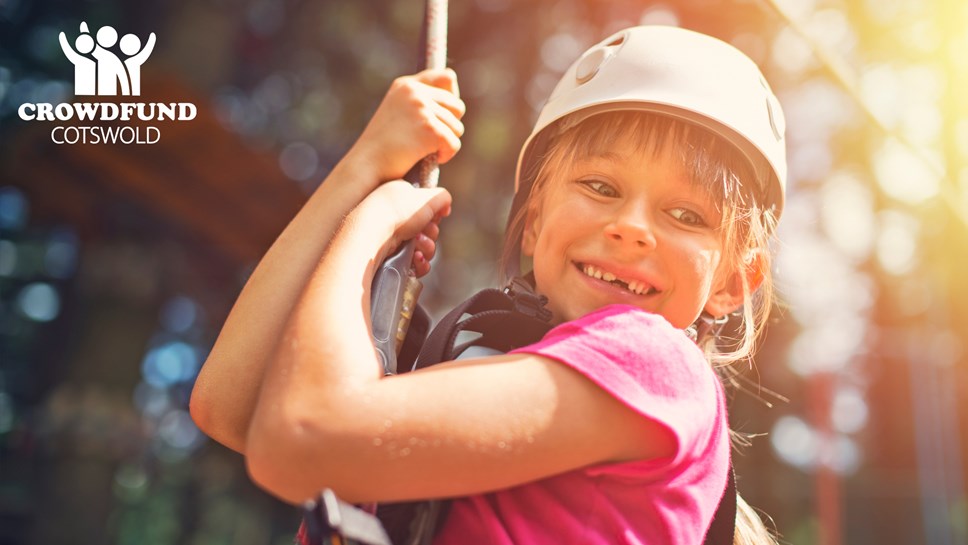 Cotswold District Council pledges over £72,000 to 13 local community groups giving major funding boost to Crowdfund projects in our District
Installing a zipwire in a local park in Avening, renovating the Earnest Wilson Garden Paths in Chipping Campden, and a project in North Cotswolds to help residents regain their independence as Covid-19 restrictions are lifted are among the 13 ambitious projects supported by the Cotswold Community Fund.
Cllr Jenny Forde, Cabinet Member for Health and Wellbeing, said: "We set up Crowdfund Cotswold to help fund important local initiatives and it is amazing to see so many projects coming through and getting local funding.
"I am very proud to contribute money to these projects directly from Cotswold District Council to help make these fantastic projects a reality and I can't wait to see what the next round of projects will bring.
"Our residents tell us that charity really does begin at home and they like knowing, their donations go directly to local projects and seeing firsthand where their money is being spent. Often local ideas are driven by one or two very hardworking people and this enables them to build a crowd of support to ensure the projects really happen."
"I would encourage everyone to look at the local project fundraising in your area to see if you can offer support to project ideas so we can turbocharge the success of locally-led campaigns. The more people, organisations and businesses that get involved the more inspiring local places we can create together."
Project creators have been drumming up support from their communities and the council has responded by pledging over £72,000 to boost the projects towards their crowdfunding targets.
The projects are all part of Crowdfund Cotswold, a programme run in partnership between Cotswold District Council and Spacehive, the UK's leading civic crowdfunding platform. As part of this initiative, local residents and groups with an idea to improve their community have the opportunity to gain funding via Spacehive's crowdfunding platform. Cotswold District Council has committed a total of £110,000 to the programme, with pledges up to £10,000 available per project.
The projects must hit their targets to bring their idea to life. Anybody can get behind the projects, with pledges starting at £2 and it's also a great way for local businesses to raise their profiles by donating too. If you want to support the projects alongside the Council or have your own project idea to put forward as part of the next funding round, visit https://www.spacehive.com/movement/cc
Susie Bromwich from Cotswold Friends, said: "Our charity is delighted to be part of this great local fundraising initiative, thanks to our backers and especially Cotswold District Council, our Independence Service is 74% funded, and already older people locally are benefiting from the project and regaining confidence and capability as lockdown lifts."
Rachel Cunynghame from Renovate Ernest Wilson Garden paths, says: "We are so grateful for Cotswold District Council and the community's funding for the Renovate Ernest Wilson Garden paths.
"The funding will make such a difference to our project and we are looking forward to the new paths; we hope that by the end of June the project will be complete. In the last few days, I have been in the garden and twice there have been people in wheelchairs, so I was really pleased to know that soon they will be able to travel all around the garden in their wheelchairs."
Contact Information
Cotswold District Council Communications Team
Notes to editors
For more information, see https://www.spacehive.com/movement/cc
All 13 projects supported by the Cotswold Community Fund:
| | |
| --- | --- |
| Project | Funding allocation from CDC |
| Tetbury Bowls - Toilet & Club Extension | £2,000 |
| Naunton Village Playground Project | £8,000 |
| Down Ampney children's playground | £10,000 |
| Renovate Ernest Wilson Garden paths | £3,000 |
| Avening Zip Wire | £2,000 |
| Cotswold Friends Independent Living | £10,000 |
| The Rural Black History Project | £5,000 |
| Enable Wellbeing in Nature Cirencester | £54 (£2,456 contribution from GCC resilience fund) |
| Chipping Campden Amphitheatre | £10,000 |
| Let's help young people Cotswold Chat! | £10,000 |
| Kingham to Bourton Recreational Trail | £3,000 |
| Cotswold Lakes Perch Pod | £5,000 |
| The Cotswold Reusable Cup Scheme | £4,000 |
| Total funding | £72,054 |