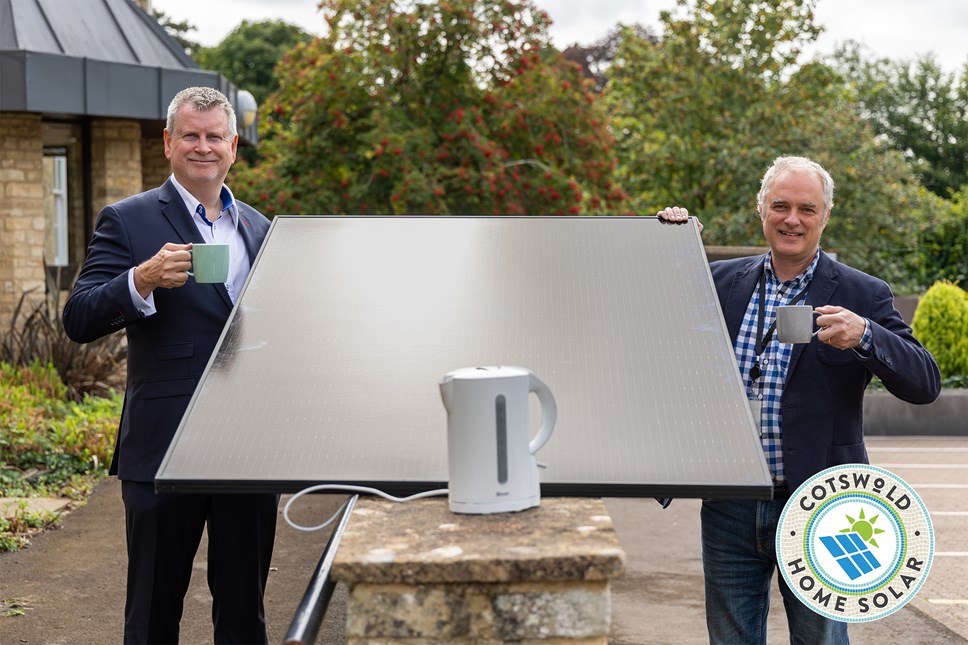 Cotswold Home Solar launches to boost green energy uptake
Cotswold District Council has teamed up with MakeMyHouseGreen (MMHG) in a national first for a local authority, to help Cotswold residents make the move to install solar panels on their homes.
MMHG is a specialist provider that supports customers through the specification, purchase and operation of domestic solar photovoltaic (PV) panels, home storage batteries and electric vehicle (EV) chargers. The Cotswold Home Solar scheme aims to give householders thinking about solar technology greater confidence and understanding when weighing up the options, with no sales pressure.
Councillor Mike McKeown, Cabinet Member for Climate Change and Sustainability at Cotswold District Council, said: "Purchasing solar panels can be daunting for some. Cotswold Home Solar will give homeowners who want to invest in rooftop solar panels greater confidence in the credibility and cost-effectiveness of what's on offer.
"While 60% of the public say they are likely to consider installing solar, research suggests that the biggest barrier to people going ahead is the perceived risk involved. With so much information out there, it can be hard for customers to navigate their way through all the details and be confident they are dealing with credible installers.
"By working with MakeMyHouseGreen we aim to provide residents with a reliable and trustworthy way to explore, specify and buy solar power in a non-pressured way.
"Currently around 5% of Cotswold homes generate electricity through solar panels. Demand is growing, and we'd love to see solar make a much bigger contribution to the district's energy. We're hoping this scheme will help residents take action to contribute to a greener future and save money on their household bills in the long run.
"We look forward to working together with residents across the district in tackling the climate emergency."
Llewellyn Kinch, Founder and CEO of MakeMyHomeGreen, said: "We're very excited to partner with Cotswold District Council to power the Cotswold Home Solar scheme. MMHG is a specialist solar platform that supports customers through their solar journey, helping them to understand the cost and savings of different options for their home and delivering high-quality installs of solar panels, batteries and EV chargers. Together we can build a greener future for the Cotswold community and make solar energy accessible for all."
The MMHG web platform enables potential customers to research the costs - and savings - associated with installing solar panels using data specific to their homes. Those purchasing an installation through MMHG will be able to enjoy a Council-arranged £250 discount and track and manage their installation through the platform. The site also allows users to access all their key documents and monitor how much energy they save.
With household energy usage a key cause of climate-changing greenhouse gases, the Council hopes the platform will propel more householders interested in switching to low-carbon renewable energy sources to explore solar as a potential option for their homes.
While MMHG has a proven track record, having already worked with familiar high-street names including Nationwide Building Society and Santander, working with a local authority is a company first.
Residential rooftop solar panels and batteries have the potential to reduce household electricity costs and carbon emissions with a good payback period and percentage rate of return that makes it an attractive investment. Solar and batteries are highly complementary to other investments such as EVs and heat pumps by reducing their running costs and may also increase the value of a house and its Energy Performance Certificate rating.
For those on a lower income, Cotswold District Council partners with Warm and Well who can help with advice on a range of home energy improvements and access to government grants.
Find out more about Cotswold Home Solar on our website.
Contact Information
Cotswold District Council Communications Team
Notes to editors
Photo caption: Cabinet Member for Climate Change and Sustainability Mike McKeown enjoys a solar PV-powered cuppa with Chris Crookall-Fallon Head of Climate Action for Cotswold District Council
MakeMyHouseGreen:
Our all-inclusive service guides you through every step – from selecting the ideal solar panel system for your home to experiencing a seamless installation process.
Join a community of over 40,000 satisfied users across the nation, benefiting from personalised and transparent pricing. Our cutting-edge technology and automation ensure a smooth transition, making your journey towards a greener home effortless.
Save £250 using our council-provided discount and start your journey towards a cheaper and greener Cotswold home today at MakeMyHouseGreen.com