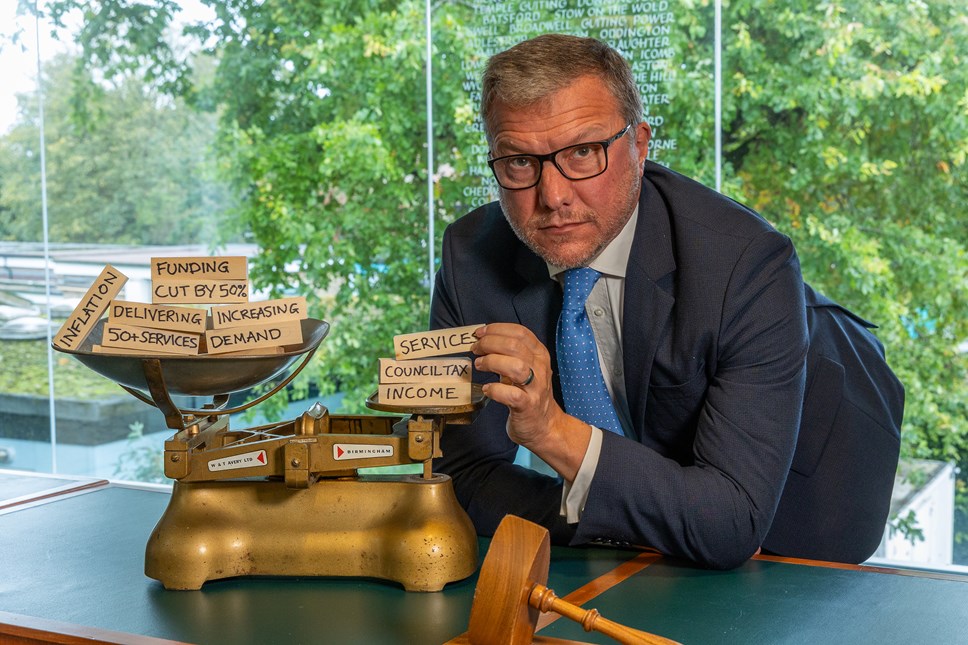 Council faced with three-year challenge to avoid going bankrupt
Cotswold District Council has today published its financial challenge for the next three years, with tough decisions to be made for the Council to avoid bankruptcy as a result of reduced government funding and increased costs.
The financial modelling done by the Council shows that unless significant changes are made to reduce spending and increase income, the Council will not be able to balance its budget in 2027.
The Council has seen its core Government funding reduced in real terms by 50% in the last decade and the recent rise in inflation has pushed up the cost of delivering council services.
On top of this, the much delayed review of local government funding suggests a further £3 million reduction in funding by 2027 which would cut the Council's budget by around 25% in one go. Without certainty on when the review will happen and how severe its impact will be, councillors must make decisions now to prepare for it.
The Council is legally required to balance its budget each year. If the Council is unable to do so, and it has exhausted all other options, it would have to consider issuing a Section 114 notice. These notices say that the council concerned is effectively bankrupt. On most occasions when this happens, the Government takes over the running of the Council, increases taxes and charges and makes cuts to services in order to balance the budget.
In its draft budget for 2023/24, the Council is proposing to raise council tax by £5 a year for a Band D Property and increase car parking charges. Together, they could raise £685,000 to fund vital services. It's also proposing to increase the garden waste charge so that the service continues to be paid for by the people who use it and not subsidised by council taxpayers. The Council is also doing more to find further savings including measures to make Council operations more efficient.
Councillor Mike Evemy, Deputy Leader and Cabinet Member for Finance, said, "The Government has failed to fund local councils properly and as a result, we're now facing an unprecedented financial challenge."
"For the time being, we are in a relatively sound financial position due to decisions in the last few years to raise charges and make services more efficient. I want to be upfront with residents that if we don't take tough decisions over the next couple of years, we risk ending up like other councils - declaring effective bankruptcy and then seeing big tax rises, huge hikes in charges and services shutdown.
"We are committed to meeting this funding challenge and our mission is to avoid getting into that position - as we have seen this year at Birmingham City Council. It isn't just Birmingham though, it is a national challenge and many other councils have issued warnings in recent months.
"Our proposals this year could save £1.5 million which would make a big difference and will help us to protect the services our residents and communities rely on. Last year, we were able to freeze car parking charges to help residents and visitors with the cost of living, but we can't afford to continue that freeze next year.
"By making difficult decisions in next year's budget, it will help us avoid making much tougher decisions in future and facing the harsh changes we have seen at councils that have lost control of their finances.
"We will be consulting on our proposed budget for 2024/25 from Friday 3 November and will let residents, businesses and community organisations know how they can provide feedback to us on our plans."
Contact Information
Cotswold District Council Communications Team
Notes to editors
CDC collects council tax but on average only retains 7% of it, with the rest going to the county council, police, fire and parish councils
CDC delivers over 50 local services including waste collection, planning, licensing, housing and homelessness support, parking and leisure
The council's proposed budget will be considered by the Cabinet on 2 November. On Friday 3 November, a consultation on the proposals will be launched, running until 8 December. The results of the consultation will be considered at Cabinet on 11 January before Cabinet and then the Council will vote on the final Budget in February