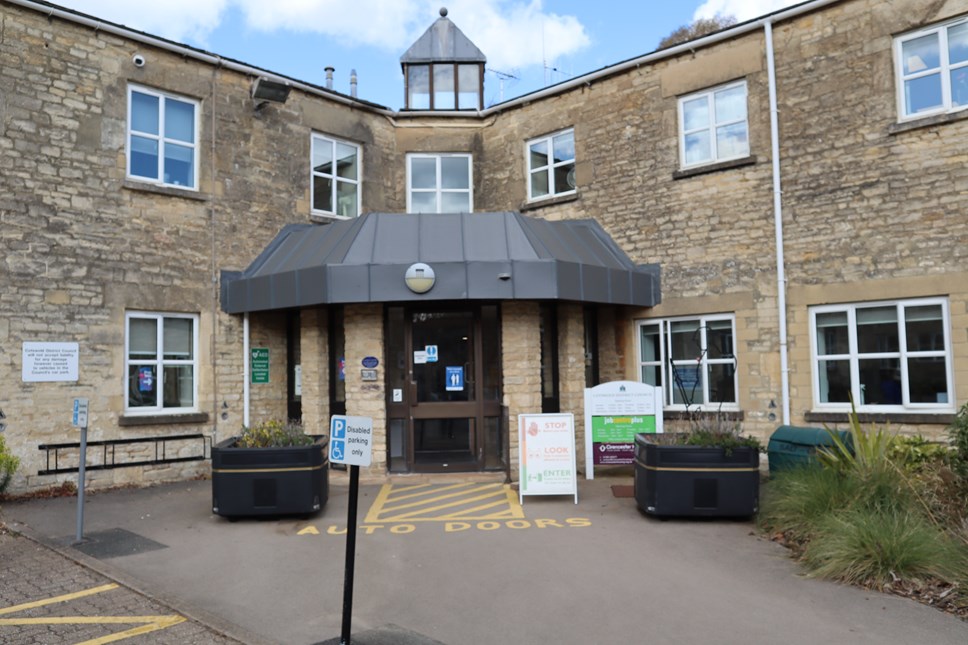 Council offices reopen to the public
Cotswold District Council has reopened its reception areas at its offices in Trinity Road, Cirencester and the Area Centre at Moreton-in-Marsh for limited face to face enquiries.
The Council has made a significant investment to refurbish the reception facilities to make both sites more accessible and Covid safe.
Robert Weaver, Chief Executive of Cotswold District Council, said: "I would like to thank residents for their support over the past year as we have implemented many more online and digital ways of transacting, which has been very successful. Despite these unprecedented times the Council has adapted to support residents and ensure that Council services continue to function.
"Throughout the pandemic, our staff have been able to resolve customers enquiries using our online and telephone services and I would like to encourage residents to continue to use our contactless services where possible as a means of minimising social contact and keeping safe.
"We've introduced a number of measures to keep our staff and visitors safe when we welcome you back. The changes we've brought in will enable us to return to some face-to-face services in a fresh, modern and covid safe environment. I'd ask residents to bear with us as we plan the next phases of re-opening and continue to use our telephone and online services as much as possible."
Re-opening our reception areas in a safe and limited way will allow the public to engage with us and Council services where a face to face interaction is beneficial. These appointments will take place in a phased way with the safety of staff and visitors the paramount concern.
How to access Council reception facilities:
Due to ongoing coronavirus restrictions, reception facilities can only allow a maximum of six customers inside Trinity Road and a maximum of two customers in the Moreton Area Centre at any one time.
We are therefore urging people to make an appointment in advance, rather than simply turning up and risking a long wait outside - especially if the weather is not great!
Residents are encouraged to contact the Council using telephone and online services. You can call us on 01285 623000 or simply visit our website at cotswold.gov.uk.
We ask that residents please support our phased reopening of reception areas and continue to use our telephone and online services as much as possible.
For full information about the council's online services please go to cotswold.gov.uk/
For information on bins and recycling or to report a missed collection, visit: cotswold.gov.uk/bins/
If you want to report issues such as fly-tipping and other environment or street scene issues please go here: cotswold.gov.uk/environment/
Contact Information
Cotswold District Council Communications Team