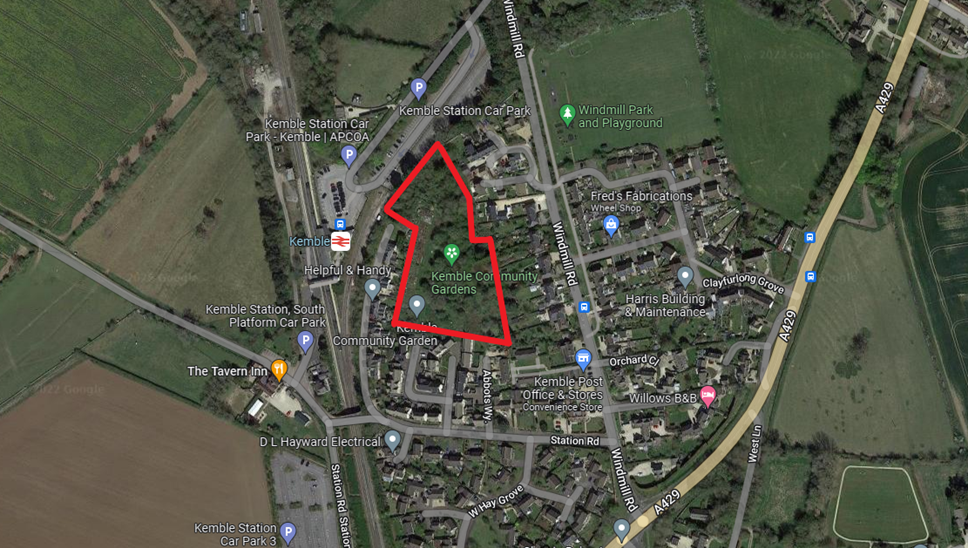 Council-owned land in Kemble to be considered for allotments and community gardens
Cotswold District Councillors will be considering a proposal to protect council-owned land in Kemble, for use as allotments and community gardens for the local community.
Part of the site on Station Road has been allocated for affordable housing in the Council's Local Plan, but following further work into whether affordable housing delivery would be possible on the site, the Council will now be considering leasing the land to the community for community use.
Councillor Lisa Spivey, Cabinet Member for Corporate Services, said; "As part of our ambition to build truly affordable homes for local people, we have been considering a number of sites across the district to be used for low-carbon, affordable homes that we know local people are calling out for.
"Upon looking at this site in Kemble it has become clear that it will not be possible to use this space for affordable homes both due to the impact on local wildlife and the cost to build affordable homes there.
"We received very valuable feedback from the local community about the area and I am pleased to be bringing forward a proposal to councillors to maintain this site as a community space.
"We would like to lease the land to the community for use as community gardens and allotments for local people to grow their own food. The gardens are already well-used by the community and it will be great to retain this space for local residents and visitors alike.
"This decision does not dent our ambition to build truly affordable housing but we need to look at each site with its own merits and consider local feedback as we look to build housing for the future."
A review of the site conducted over the past 18 months showed building homes would require additional work and expense to protect or relocate wildlife on the site, and importantly, that the site doesn't appear financially viable for the delivery of affordable homes.
As part of the report going to district councillors, the proposal is that the land would be removed as a site for new homes in the Local Plan, protecting it as a community space. It would also be leased under restrictions that provide the District Council with control and importantly mean it will remain an allotment and community garden.
Councillor Tony Berry, Ward Member for Kemble, said; "I am pleased that the Council will be considering protecting this land for use by the community of Kemble.
"Community gardens and allotments are important for local residents and both the pandemic and cost of living crisis have only reinforced that."
The Council's Cabinet will be considering the proposal in January 2023 before all councillors take a vote at a Full Council meeting later in the same month.
Contact Information
Cotswold District Council Communications Team