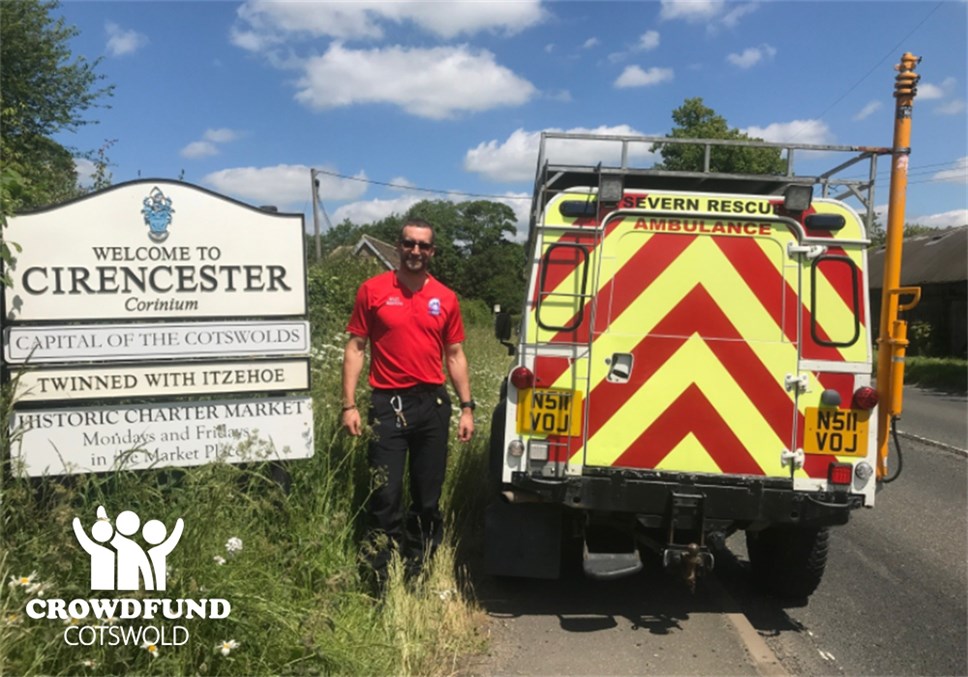 Council pledges £24k to local projects in latest round of Crowdfund Cotswold
Cotswold District Council has pledged £24,500 to three local projects in the latest round of funding contributions for Crowdfund Cotswold.
The local projects backed by the Council include the Severn Area Rescue Association (SARA) project to establish a volunteer search & rescue team in the Cotswolds and two community-led playground projects.
Cllr Jenny Forde, Cabinet Member for Health and Wellbeing said, "It's wonderful to see more projects fundraising through Crowdfund Cotswold. Local communities and groups using the platform have raised over £370,000 so far and we want to help them raise even more.
"It's brilliant to see communities come together to bring their ideas to life. These projects are more great examples of what can be achieved when people work together for the benefit of the areas in which they live.
"I would encourage others to come forward with their ideas for projects no matter how big or small. You don't have to be a registered charity or group - just a resident with a great idea to shape your local area and the future you want."
The SARA Cotswolds project is fundraising to help provide vital medical and rescue equipment for a newly established volunteer search and rescue team based in the Cotswolds that will support the local Police and Fire services.
David Wright, from SARA Cotswold, said: "We are delighted to receive the pledge from the District Council to our Crowdfunding campaign. With their support, we have now raised £9,000 towards our £13,937 target, money which will provide the essential medical & search equipment to ensure we can save lives in the Cotswolds. Fundraising now continues at pace and we will be looking for support from local businesses to help us reach that important target."
The parent-led Ampney Crucis Playground Appeal has been set up to replace an outdated climbing frame with a new multi use climbing frame that will provide an exciting challenge for children of different ages and abilities.
Sarah James Sparrow, from the Ampney Crucis Playground Committee, said: "This phenomenal pledge is a massive and significant step towards reaching our target for a project that is going to benefit visiting and local children and their families for many years to come. This project will make a positive change to a community and the children that can play safely within it for which we are truly grateful. Thank you CDC for helping us make this project a reality and helping us invest in such a beneficial asset for so many children."
The Meysey Hampton playground project is also looking to revitalise facilities with a new hardwood timber play area that is accessible to children and families of the village. The Meysey Hampton playground project has also received a pledge of £10,000 from the National Lottery Community Grant Fund.
Steve Cole, from Meysey Hampton Playing Fields, said: "We are thrilled to receive this amazing grant from the Council. Installing new play equipment in our village playing field, which will make a real difference for local children and families."
If you have your own idea to put forward, you can get started today by visiting the Crowdfund Cotswold website and creating your own project page.
People and organisations can pledge as little as £2 towards a project and money is only taken if the campaign hits its target.
To view all of the active projects in the Cotswolds, please visit the Crowdfund Cotswold project page: spacehive.com/movement/cc/projects.
Contact Information
Cotswold District Council Communications Team
Notes to editors
The Council is currently assessing three more projects in this round of funding, pending reviews.
Local residents and groups with an idea to improve their community can leverage the Crowdfund Cotswold, a digital crowdfunding platform, to raise funds from the local community, business and partner organisations.
The Council has allocated a total of £110,000 to the programme, with up to £10,000 available per idea to boost projects towards their funding target. The deadline for the next funding round is 14 September 2022.