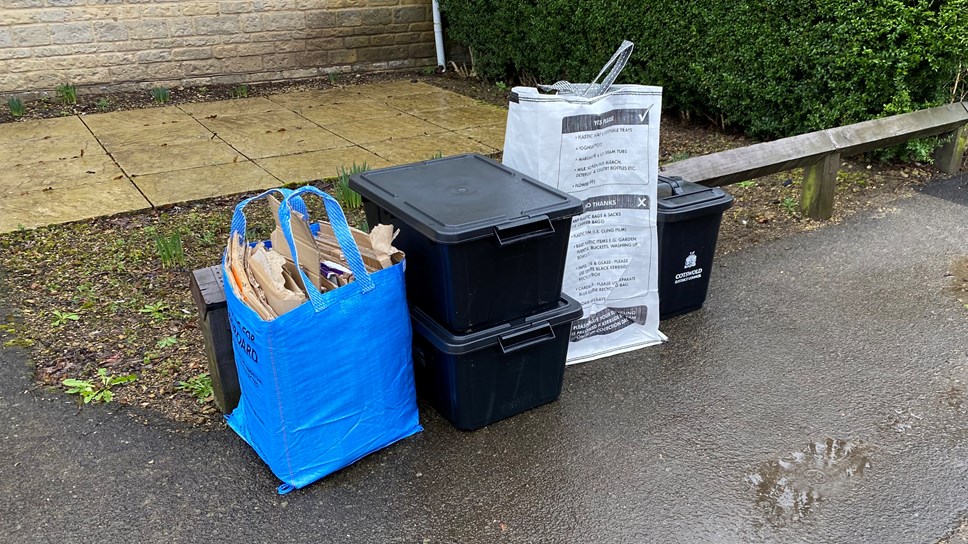 Covid-19: Recycling and Waste Services Update
Cotswold District Council is calling on all residents to present their recycling correctly and do all they can to limit the amount of waste they are generating while social distancing measures are in place.
The Council's waste collection contractor, Ubico, is working incredibly hard to ensure essential services continue whilst residents adhere to government guidance and stay at home to support the measures limiting the spread of Coronavirus.
Cllr Andrew Doherty, Cabinet Member for Waste and Recycling, said: "To deliver services and minimise the risk to the crews, we ask all residents to present their waste and recycling correctly. Information on the new collection service and how to present food, waste and recycling at the kerbside can be found on the Council's website.
"Unsurprisingly, with many of our residents adjusting to social distancing and working from home, there has been an increase in recycling. We are particularly seeing a significant increase in food waste being presented for collection. It's important that residents try to limit waste during this crisis, to allow our people to cope with increased demand.
"Covid-19 does impact the availability of our staff. They have to self-isolate, take time-off sick and support their families in the same way as the rest of us. We ask for your patience at this time and ask that you check our website for updates before phoning to report missed collections. I would like to thank all of our residents for bearing with us during this disruption."
For the latest information on any disruptions to waste and recycling services, please check our website: https://www.cotswold.gov.uk/bins-and-recycling/coronavirus-bins-and-recycling/
How to present your waste at the kerbside
You can find information on how to present your waste and recycling along with guides on our website: https://www.cotswold.gov.uk/bins-and-recycling/
How can I reduce food waste?
If you have food approaching its 'use by' date or leftovers which are still edible, why not freeze them for later if you can't use them straight away. Throwing food away should always be a last resort.
Unsure about what food items can be frozen? Love Food Hate Waste has plenty of storage tips and advice about how to keep foods for longer plus lots of recipe ideas to help you make the most of your fresh and store cupboard ingredients.
For information on changes to our services, what you can do to protect yourself, support your community and guidance to assist employers and businesses visit our Coronavirus pages.
Contact Information
Cotswold District Council Communications Team