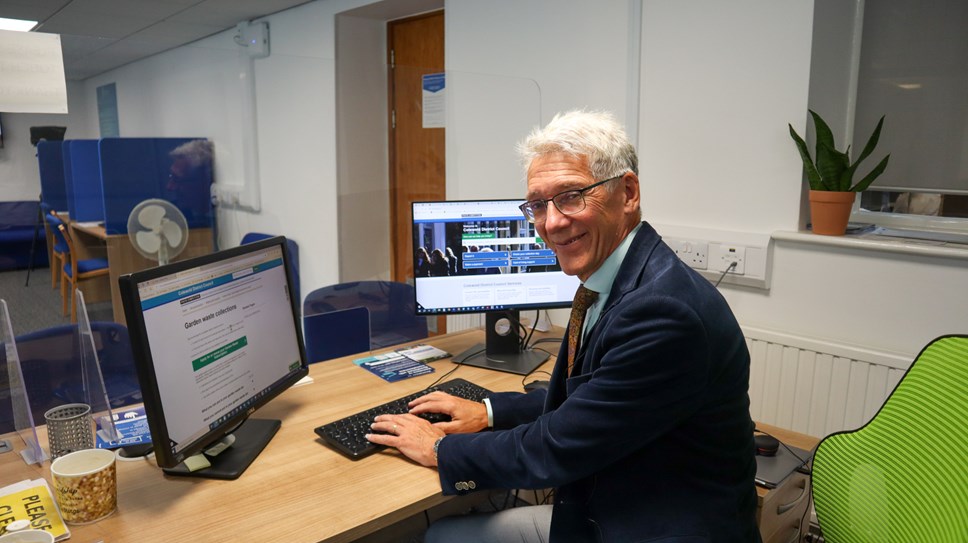 District Council to trial reduced call centre opening hours
From Wednesday 18th October Cotswold District Council's telephone lines will be open from 9 am to 2 pm, Monday to Friday with more resources going into answering calls at lunchtime and improving online services.
In-person services at the Council's offices in Cirencester and Moreton in Marsh will remain unaffected.
The change in the phone line opening hours comes as the Council has to make tough decisions in order to balance its budget and avoid going bankrupt in future. At the same time, the Council is looking to provide more online services as residents' needs change.
The change will save the Council over £119,000 a year, helping offset the impact of years of reduced funding and increasing costs as a result of inflation.
Analysis of call volumes and changing customer preferences over recent years has shown more residents are using digital services and fewer are calling the Council. Data also shows that we receive the most calls in the morning and over lunchtime.
The number of calls the Council received from residents between 2021 to 2022 reduced by over 20% while the activity on the Council's website tripled and continues to grow. When the garden waste service was moved online, the Council received 90% of contact from residents through its website.
Cllr Tony Dale, Cabinet Member for the Economy and Council Transformation, said: "This decision is fundamentally about two things - saving money to protect vital local services and adapting to the needs of our residents.
"Reducing our customer service telephone hours is not a decision we take lightly but we are having to make difficult decisions as the Government has cut the council's funding by over 50% over the past 13 years and the impact of inflation continues to bite. Our number one priority is to prevent the District Council from going bankrupt like Birmingham Council recently has."
"This change will help protect essential services, improve our response times during lunch hours when many working people call and help us provide good quality online services residents have come to expect.
"We understand that not all residents will be unable to use our online services so we will continue in-person services at our offices in Trinity Road and Moreton Area Centre as well as maintaining our phone lines from 9 am to 2 pm Monday to Friday."
Many council services are now available online including reporting problems, checking waste collection days and making payments. The Council is encouraging residents with digital access to go on the Council website - www.cotswold.gov.uk - if they need a council service.
Contact Information
Cotswold District Council Communications Team
Notes to editors
Under the trial, the opening hours for telephone services from Wednesday 18th October are as follows:
Mondays – 9 am to 2 pm
Tuesdays – 9 am to 2 pm
Wednesdays – 9 am to 2 pm
Thursdays – 9 am to 2 pm
Fridays – 9 am to 2 pm
Saturday, Sunday and Bank Holidays – Closed
The Council would also be maintaining a 24/7 out-of-hours emergency line for crucial services such as homelessness and emergency response.
The Trinity Road and Moreton Area Centre offices will remain open from 9am to 5pm, Monday to Friday for people wishing to speak to someone in person.
Read the Telephone Channel Access Cabinet report.