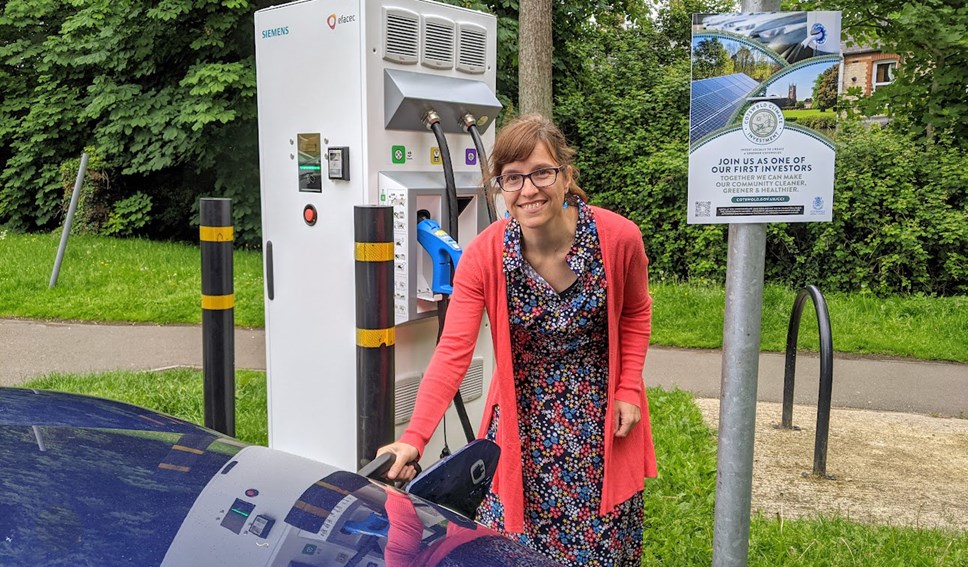 First climate project supported by new Cotswold investment goes live
A new, ground-breaking initiative is paving the way for cleaner, greener transport in Cotswold District as the Council's outdated electric vehicle charging points (EVCPs) are replaced with new state-of-the-art 50kW rapid charge units at Old Market Way car park, Moreton-in-Marsh and The Beeches car park, Cirencester.
Backed by funding allocated through the recently launched Cotswold Climate Investment - an initiative that invites members of the public to invest as little as £5 into local green projects - the upgrades will support residents, businesses and visitors to move away from vehicles powered by polluting fossil fuels in a bid to reduce greenhouse gas emissions and improve air quality leading to better health.
The installation of the new EVCPs signals the start of a programme by the Council to roll out more publicly available charging points across the district to give motorists the opportunity to charge their vehicles away from home and enable residents without access to off-street parking to charge overnight.
Councillor Rachel Coxcoon, Cabinet Member for Climate Change and Forward Planning at Cotswold District Council said: "We are delighted that the initial phase of the very first project to be allocated funding under new Cotswold Climate Investment is up and running. The speed and level of support seen shows just how passionate members of the public are about the environment and how, by working together, we can accelerate projects in the our area which can bring about positive climate action and benefit local people.
"The priority for low carbon transport is more walking and cycling which reduces road congestion, makes towns more vibrant, saves money and improves people's health. Nonetheless as a rural district we can't move away from cars altogether. While petrol and diesel vehicles still dominate our roads at the moment, the growth of electric vehicles is welcomed and set to continue, and it's important that the infrastructure to underpin this is in place. However two of the most cited factors against switching right now are the perceived difficulties in charging up electric cars and range anxiety. By offering more places to charge, using the latest technology, we can go some way to filling this gap and give people the confidence to make the move to cleaner motoring."
Developing the infrastructure to support EVs is just one objective outlined in the Council's Climate Emergency Strategy 2020-2030 to decarbonise the district around the key issue of transport and according to the independent Climate Change Committee, the transition to electric vehicles will be one of the most important factors in achieving the UK's Net Zero climate change reduction target.
To charge users will simply need to download the EB Go! Smartphone app, available for free from the App Store or Google Play. Motorists have the option to register for an account, which enables payment and vehicle details to be saved for future charging or alternatively users can charge as a guest. For either option, drivers will need to enter their card details and a phone number to verify the charging device.
The units are being upgraded to accept contactless card payments in the next few weeks.
The second phase of the EVCP roll out is set to take place later in the year. Four charging units, able to charge 8 vehicles simultaneously, are planned for the Council's Rissington Road car park at Bourton-on-the-Water as part of the wider redevelopment of the site, with a further 4 publicly-available chargers being installed at the Council offices in Trinity Road, Cirencester.
The Cotswold Climate Investment (CCI) - the first of its kind to be offered by any district council in the country - invites people to invest as little as £5 into projects to provide a collective and accelerated response to the climate emergency. Since its launch last month, the raise is already well on its way to reaching its first-phase target of £500k with over 60% already pledged.
As with all investments your capital is at risk. Investments are long term and may not be readily realisable. This communication has been approved as a financial promotion by Abundance Investment, who are authorised and regulated by the Financial Conduct Authority (525432).
Contact Information
Cotswold District Council Communications Team
Notes to editors
About Abundance Investment  
Abundance is a leading direct investment platform that is putting people in control of their money. People invest in individual projects that generate something good for the environment and society as well as bank-beating returns.   
The investor chooses which project or business to invest in from just £5 and benefits from a financial return, while the world benefits from the growth of sustainable businesses. 
Since launching in 2012, more than 7,600 people have invested over £127m directly into the projects they support via the Abundance platform, with over £39m returned to investors. In the process, Abundance has achieved a number of firsts. As well as being the world's first FCA-regulated investment based crowdfunding company, it is also the first investment platform to offer a dedicated investment based crowdfunding SIPP and launched the UK's first Innovative Finance ISA for renewable energy investments on November 1st 2016. 
In 2020, Abundance launched the first Community Municipal Investments after working with the University of Leeds to develop new ways to allow local people to actively participate in the transition to Net Zero. These investments let people invest directly into councils, allowing them to fund the real local green projects that we need to make a big impact on the climate emergency. Abundance's new municipal investments, launched after September 2021, are structured as peer to peer loans and are eligible to be held in an Innovative Finance ISA. Abundance's first two municipal investments, launched in 2020 with West Berkshire and Warrington Councils, were not ISA eligible. 
Abundance also became a certified B Corp in 2018; these are businesses that meet the highest standards of verified social and environmental performance, public transparency, and legal accountability to balance profit and purpose. 
Abundance and Abundance Investment are trading names of Abundance Investment Ltd which is authorised and regulated by the Financial Conduct Authority (no. 525432). 
Visit www.abundanceinvestment.com  
Follow @AbundanceInv 
Risk Warning:  
As with any investment, there are risks when investing on Abundance. Your invested capital is at risk and any return on your investment depends on the ability of the local authority you have invested in to pay your returns. Investments on Abundance are generally long term and you should be prepared to hold them to maturity. The investments are illiquid and you may not be able to sell them if you need your money back earlier, and their value can rise or fall. Quoted returns are no guarantee of future returns and past performance is not a guide to future performance. Specific risks will apply in relation to each investment. Please consider all risks before investing and read the Offer Document or Factsheet for each investment. The investments on Abundance include debentures or bonds (from companies) and peer-to-peer loans (from councils) - Abundance's service in relation to peer-to-peer loans is not covered by the Financial Services Compensation Scheme (FSCS).