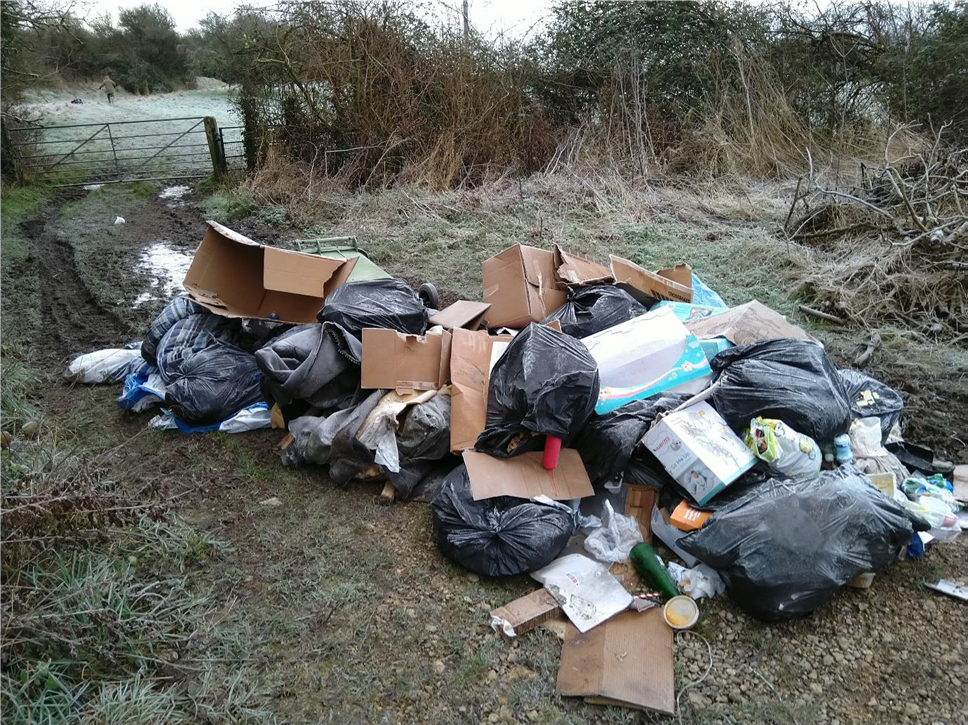 Fly tip prosecution success for Cotswold District Council
Cotswold District Council has been successful in prosecuting an individual for fly tipping along a bridleway near the B4450 road that leads from Stow-on-the-Wold to Bledington. The tip contained black bin bags, soft furnishings, a sofa, cardboard packaging from children's toys, items of clothing and a green waste bin.
On Wednesday, 13th July 2022, Miss Charlotte Johnson, of Stow-on-the-Wold, pleaded guilty to offences under sections 33 and 34 of the Environmental Protection Act 1990 at Cheltenham Magistrates Court. The magistrates fined Miss Johnson £480.The defendant was also ordered to pay £500 in costs and a victim surcharge of £48, taking the total Miss Johnson has to pay to £1028.
Cllr Andrew Doherty, Cabinet Member for Environment, Waste and Recycling, commented: "As a Council our teams are consistently working hard to keep the district clean, tidy and safe for our residents and wildlife but some people don't play their part. Fly tipping is a criminal offence. As well as being a hazard to human health and wildlife in the District, it also comes at a cost to the taxpayer.
"We're pleased that this has been a successful and significant prosecution for the Council. Fly-tipping is unacceptable and as any incident of the activity is a criminal offence, we will seek to do everything we can to prosecute offenders in all cases, either through the issue of a Fixed Penalty Notice or through a prosecution. We hope that this will act as a deterrent for others who may be tempted to offend."
The prosecution was brought by Cotswold District Council's Environmental Regulatory Services team with assistance from both the Council's Counter Fraud and Enforcement Unit and Legal Service.
Anyone can report an incident of fly tipping online by visiting the Cotswold District Council website: https://cotswold.gov.uk/environment/report-fly-tipping
Contact Information
Cotswold District Council Communications Team