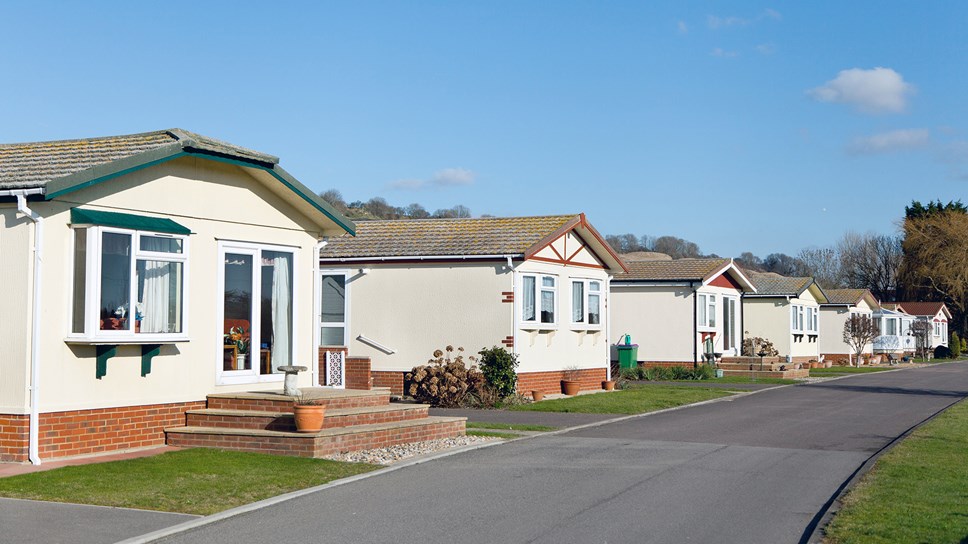 £1.7m park home insulation scheme makes residents warmer and happier
Some of the hardest to heat households have received vital improvement measures through the Warm and Well programme - Cotswold District Council's fuel-poverty support service - as part of a £1.7m Government-funded project to improve the energy efficiency of the region's park homes.
Park homes are often poorly insulated and difficult to heat, with compounding factors that make some residents more vulnerable to the effects of cold weather and high heating bills.
More than 200 park homes in Gloucestershire and South Gloucestershire have now benefitted from the project having had new external wall insulation fitted which has not only made their homes fresher and more modern in appearance, but crucially warmer.
Councillor Rachel Coxcoon, Cabinet Member for Climate Change and Forward Planning at Cotswold District Council said: "Recent fuel poverty statistics show that 10.3% of Cotswold households were living in fuel poverty in 2020 – the highest number in five years and we know the current energy crisis, combined with the current increases in the cost of living, is making it even harder for some in our community to meet their essential household energy bills.
This fund has provided a significant boost to improving the energy performance of some of the least efficient homes in Cotswold district and across the region, helping to make fuel bills more affordable and creating warmer, healthier homes for those living there. This latest project is just one way we are working to support the most vulnerable in our communities and to alleviate fuel-poverty through Warm and Well and Severn Wye Energy Agency who deliver this important programme on our behalf."
In total, 204 park homes were insulated between October 2020 and March 2022 - including 15 in Cotswold district - with ten rural homes also receiving air source heat pumps co-funded through the Warm Homes Fund.
Improved living conditions also bring better health outcomes, meaning residents are less likely to need to visit their GP or hospital - a benefit both to them and the rest of society.
Residents who received the improvement measures reported feeling happier and healthier with 98% noting how much warmer they felt at home since the insulation was installed. The scheme has also brought a significant reduction in carbon emissions too. As a result of the insulation, 239 tonnes of carbon dioxide will be saved every year, the equivalent of taking nearly 150 average fossil-fuelled cars off the road.
The project was funded as part of the Department for Business, Energy, and Industrial Strategy's Green Homes Grant Local Authority Delivery scheme, in collaboration with the seven local authorities in Gloucestershire and South Gloucestershire and the Gloucestershire NHS Clinical Commissioning Group, to improve the energy efficiency of homes of low-income households, helping reduce fuel poverty, phasing out high carbon fossil fuel heating, and delivering progress towards the UK's commitment to net zero by 2050.
Anyone struggling to heat their home, concerned about rising energy prices or wanting to find out more about grant funding opportunities can contact the Warm and Well Freephone advice line on 0800 500 3076 or via their website: www.warmandwell.co.uk.
Contact Information
Cotswold District Council Communications Team
Notes to editors
Severn Wye Energy Agency is a non-profit company and registered charity operating throughout Wales and its English border counties supporting communities, residents and businesses to create a sustainable, affordable, low carbon future. Severn Wye run the Warm and Well programme, helping residents of Gloucestershire and South Gloucestershire live more energy efficient lives.
Warm and Well is funded by Cheltenham Borough, Cotswold District, Forest of Dean, Gloucester City, South Gloucestershire, Stroud District and Tewkesbury Borough Councils; and the Gloucestershire NHS Clinical Commissioning Group.