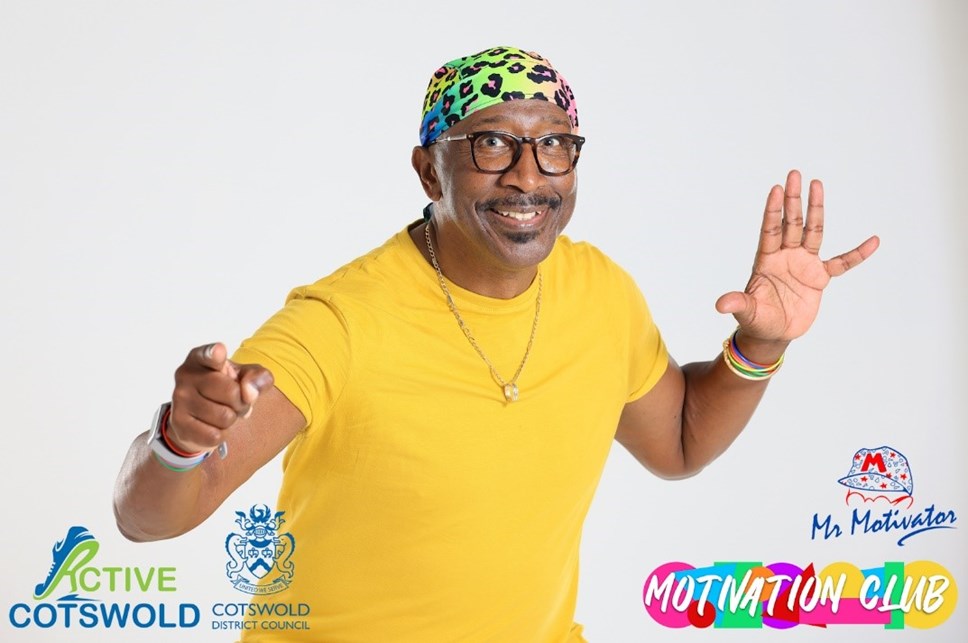 Get Motivated Cotswolds!
Residents in Cotswolds have a unique opportunity to move their bodies with Mr Motivator himself, as part of Cotswold District Council's Active Cotswold programme, bringing a live exercise and movement event to Cirencester on Sunday 1 October.
Cllr Paul Hodgkinson, Cabinet Member for Health, Leisure and Culture, said: "I remember Mr Motivator's breakfast TV workouts in the 90s and how popular they became. Now he's coming to the Cotswolds to provide residents with a fun health and wellbeing event and giving us all the motivation to boost our wellbeing!
"Our Active Cotswold programme is all about providing residents with the support they need to keep fit and active. Our Community Wellbeing team has worked extremely hard to put this event together and I'm sure it'll be a great day!
"As well as the live event, there is also the opportunity to join Mr Motivator's Club, this is totally free of charge offering you even more live classes with Mr Motivator."
The LIVE Active Cotswold event is taking place on Sunday, October 1 at Bingham Hall in Cirencester, from 2pm to 5pm. The event is fun-filled with something for everyone, no matter what your age or abilities. Cotswold district and Mr Motivator believe that giving you a taste of different exercise disciplines will increase your knowledge, leaving you better able to determine what you like by way of exercise, and when this is all over you will go on to make lifestyle changes much better equipped.
Not only will there be a live workout with Mr Motivator, there will also be 'taster sessions' of a variety of activities, demonstrations of Physical Activity options such as Yoga, Zumba, Dance, and Chair Workouts, and will promote the value of sustainable, community centred physical activity.
Sign up for the LIVE Active Cotswold event with Mr Motivator - https://www.eventbrite.co.uk/e/active-cotswold-live-event-with-mr-motivator-tickets-704524631137
Mr Motivator said: "I am super excited to be working with Cotswold District Council to organise this event for you, the residents!
"We've been working hard to put this event together and it's a chance for you to connect with your community, be inspired to move your body more for a healthier you, get fit and most importantly have fun!
"I'm really looking forward to seeing you all there, I hope you can make it! In the meantime, you can sign up for Mr Motivator's Club and access new workout videos every week. What are you waiting for?! #SayYeah."
At Cotswold District Council we want to support residents who are looking to become more active. Mr Motivator's Club membership provides you with workout videos, eating advice and mental wellbeing tips. We will provide FREE premium membership to the Mr Motivator's Club for those residents who are living with a long-term health condition, mental health conditions, GP exercise on referral or low income.
Sign up at https://forms.gle/wmg6BNqnd6T9tBGz9 or speak to the Community Well-being team for more information by emailing community.support@cotswold.gov.uk.
Sign up for the FREE Wednesday night Mr Motivator's Club - https://members.themrmotivatorclub.com/register/free/
Contact Information
Cotswold District Council Communications Team