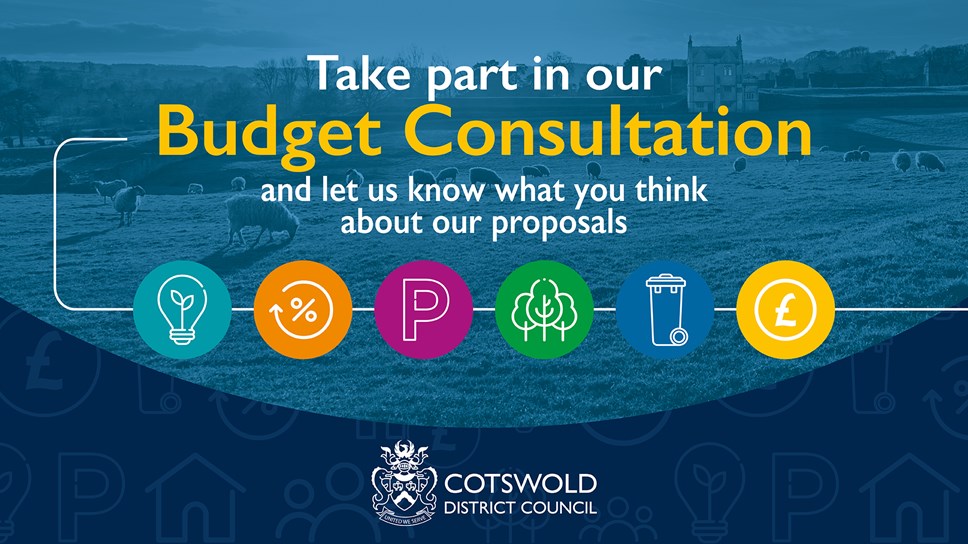 Have your say on Cotswold District Council's financial challenge
Cotswold District Council is asking residents, businesses and organisations across the district to give their views on the Council's finances as it prepares to set the budget for the next financial year.
The budget consultation is open from Friday 3 November until midnight on Friday 8 December. The Council is keen to gather residents' views on key areas in the proposed budget including an increase to council tax and car park charges to help bridge the funding gap the Council faces and protect the vital services residents rely on.
The budget also includes a recommendation to increase the cost of the garden waste service so that those using the service are covering the cost rather than other taxpayers subsidising it. There are also proposals for changes to some resident's collection days for the waste collection service which will make the service more efficient and save significant amounts of money.
The financial modelling done by the Council shows that unless significant changes are made to reduce spending and increase income, the Council will not be able to balance its budget in 2027.
Over the last decade, the Council has seen its core Government funding reduced in real terms by 50% and the recent rise in inflation has pushed up the cost of delivering council services. On top of this, the much delayed review of local government funding suggests a further £3 million reduction in funding by 2027 which would cut the Council's budget by around 25% in one go.
Cllr Mike Evemy, Deputy Leader and Cabinet Member for Finance, said: "The Government has failed to fund local councils properly and as a result, we're now facing an unprecedented financial challenge.
"The Council is in a sound financial position currently due to decisions in the last few years to raise charges and make services more efficient. I want to be upfront with residents that if we don't take tough decisions in this budget, and over the next couple of years, we risk ending up like other councils that are now in really difficult financial positions - some have had to declare they are effectively bankrupt leading to big tax rises, huge hikes in charges and services shutting down.
"Our proposals this year could save £1.5 million which would make a big difference and will help us to protect the services our residents and communities rely on. Last year, we were able to freeze car parking charges to help residents and visitors with the cost of living, but we can't afford to continue that freeze next year.
"I would urge everyone to complete our short survey once or join us at one of our forthcoming engagement events to have your say on how we navigate this challenge."
The budget consultation will start on Friday 3 November and will run until Friday 8 December. Residents, businesses and organisations are encouraged to engage with the consultation at your.cotswold.gov.uk.
As part of the consultation, the Council will hold a series of engagement events across the district so residents can speak with Council members and officers and ask any questions they may have about the Council or its finances. Details on engagement events will be announced soon and published on our website.
More information about the Council's priorities and Council Tax are available on the Cotswold District Council website.
Contact Information
Cotswold District Council Communications Team
Notes to editors
CDC collects council tax but on average only retains 7% of it, with the rest going to the county council, police, fire and parish councils
CDC delivers over 50 local services including waste collection, planning, licensing, housing and homelessness support, parking and leisure
The council's proposed budget will be considered by the Cabinet on 2 November. On Friday 3 November, a consultation on the proposals will be launched, running until 8 December. The results of the consultation will be considered at Cabinet on 11 January before Cabinet and then the Council will vote on the final Budget in February