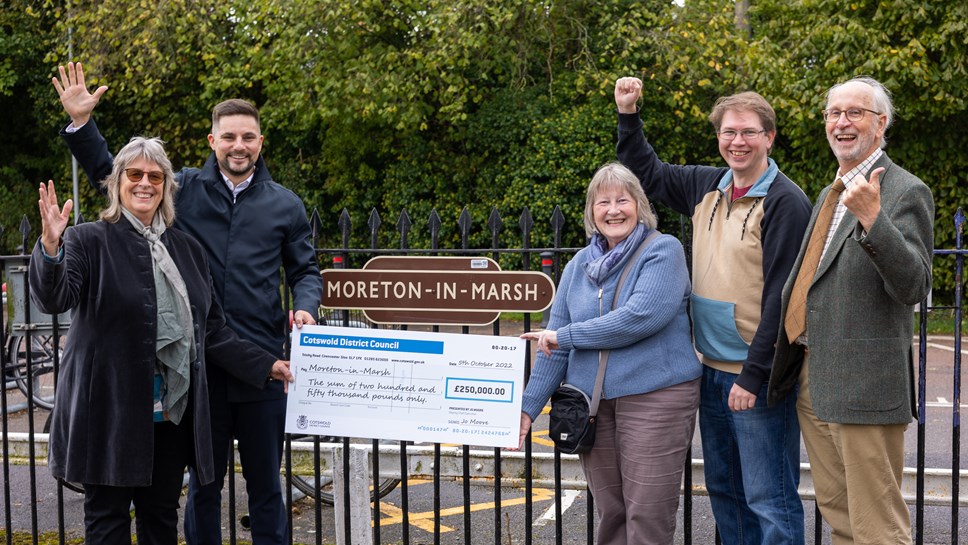 Historic investment into Moreton-in-Marsh transport hub
A quarter of a million-pound investment from Cotswold District Council will help transform the area around Moreton-in-Marsh train station into a transport hub for the North Cotswolds.
Cotswold District Council has agreed to pass on a £250,000 developer contribution towards Moreton-in-Marsh Town Council's plans to refurbish Redesdale Hall and develop the railway station into an innovative transport hub.
Cllr Juliet Layton, Cabinet Member for Development Management and Licensing, said: "This is a historic investment into Moreton's infrastructure and it comes after years of housing development which has changed the face of the town.
"Many local people are fed up that these developments haven't had the adequate infrastructure to support people already living in the town and those people making their home here.
"Moreton-in-Marsh railway station has the potential to become a key stop in the North Cotswolds. Combined with bus services, walking and cycling routes, there is potential to create a sustainable transport hub to benefit the wider area.
"Community transport is available on a very limited scale in the Moreton-in-Marsh area and does provide an excellent service for those most in need. However, there is scope to further expand transport so that residents are better connected to key growth areas and sustainable interchange hubs such as Moreton-in-Marsh railway station. No one should feel isolated because they can't get around."
Cllr Clive Webster, Ward Member for Moreton West, said: "I'm delighted to see this contribution toward the Moreton Transport Hub, which will help residents get into town more sustainably by bike or foot while offering rail commuters a better place to park than the High Street or residential roads.
"This project should give the extra parking and transport capacity to enable improvements to the High Street which will boost local business and recapture some of the lost heritage and character of the town."
The funding came to Cotswold District Council from a developer contribution as part of the construction of the Fire Service College. The Council has decided to allocate this funding to Moreton-in-Marsh proposals to improve the transportation and social wellbeing of the town.
To progress the Town Council's plans, funding is required for the project to reach the stage where there is a suitable design for the Transport Hub to apply for and achieve planning approval.
This will be funded from a combination of Moreton-in-Marsh Town Council reserves, a proportion of the £250,000 from Cotswold District Council, Great Western Railway and other third-party contributions.
Once the initial stages are concluded, central government grants or other third-party funding will be sought to progress the main works which are estimated to be in the region of £3m for the wider station area. Design consultants are due to be appointed in September 2022.
Redesdale Hall, which is used as a cultural meeting space for the community, currently requires extensive refurbishment. The Town Council's plans include expanding the capacity of the hall to keep in line with the demands of the growing population of Moreton-in-Marsh.
Total project costs for Redesdale Hall including building stabilisation, roof replacement, internal regeneration and improvement to public realm surroundings are estimated in the region of £3m. The scheme is already underway using the Town Council reserves to fund design costs. Some of the funding from Cotswold District Council will also be used to fund the early stages of the Redesdale Hall scheme.
Cllr Layton added: "The Redesdale Hall is an important part of Moreton's street scene and holds a special place in the hearts of many local people. I'm pleased that we can offer a cash boost to help with its renovation and restoration."
Contact Information
Cotswold District Council Communications Team
Notes to editors
The £250,000 is funded from a planning contribution by the Council under a Unilateral Undertaking agreement entered into in 2014 with the Fire Service College.
The Unilateral Undertaking agreement specified that the £250,000 contribution was to be for a Community Infrastructure Purpose which was defined as being towards:
"The improvement of the highways and transportation network and/or the promotion or improvement of the economic and/or social and/or the environmental wellbeing of the Parish of Moreton-in-Marsh"
For more information, please read the Use of Unilateral Undertaking Funding for Moreton-in-Marsh Integrated Transport Hub cabinet report.
Image:
Cotswold District Council presented Moreton-in-Marsh Town Council with a cheque for a quarter of a million pounds to improve the transportation and social wellbeing of the town.
Left to right: Cllr Juliet Layton and Cllr Joe Harris from Cotswold District Council. Cllr Eileen Viviani and Cllr Clive Webster from Moreton-in-Marsh Town Council and local resident Angus Jenkins.