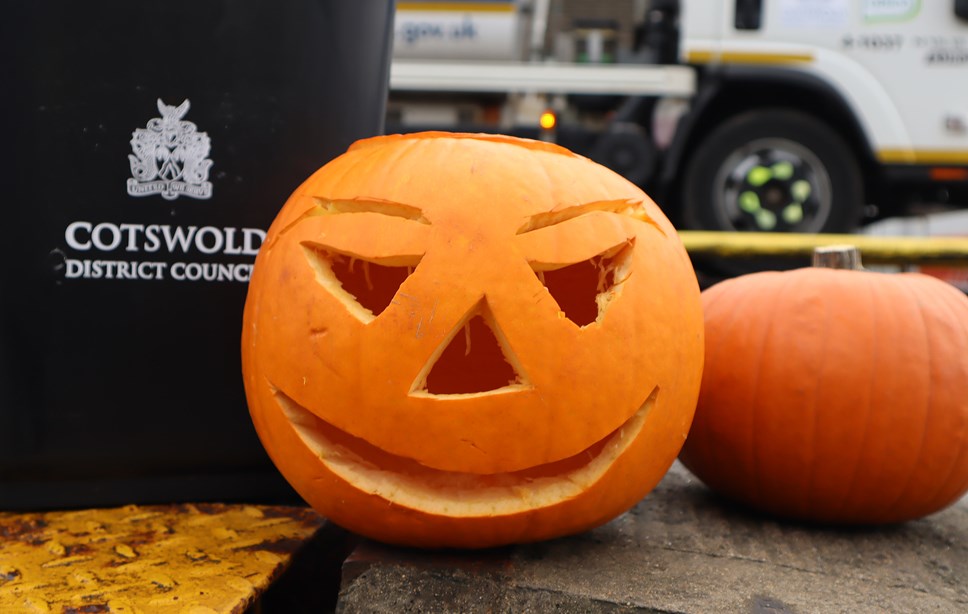 Households asked to dispose of pumpkins sustainably to reduce waste
Whether shop bought or locally picked, Cotswold District Council is reminding residents to compost, recycle or better still, eat their pumpkins once this year's Halloween celebrations are over, in a bid to reduce waste.
With Halloween now recognised as the third largest event in the UK retail calendar - falling only behind Christmas and Easter - sales of pumpkins continue to soar with sustainability charity, Hubbub, predicting that over 39 million will be sold this year. Consequently, many millions of pumpkins will go uneaten and come Tuesday be simply thrown away.
Councillor Andrew Doherty, Cabinet Member for Environment, Waste and Recycling at Cotswold District Council, said: "With the potential for so much wasted food at Halloween we're asking residents to dispose of pumpkin leftovers in the most sustainable way. Many people don't realise that carving pumpkins are edible and can be easily used to create various cheap, delicious and nutritious meals.
"The World Meteorological Organisation announced this week that levels of greenhouse gases have reached a record high. Lots of energy goes into producing our food so reducing waste at every opportunity is important in tackling climate change. If turning into a meal isn't an option, we urge householders to add leftover pumpkins to home compost bins or recycle them using the weekly food waste collection service, removing all the candles and wax first."
Food waste collected from Cotswold homes is taken to AnDigestion's anaerobic digestion facility at Bishops Cleeve where it is treated and used to create renewable energy. The bio-gas produced will be injected into the gas grid, helping reduce reliance on natural gas, while the remaining wet material will be used by farmers to fertilise their land.
Last year Cotswold District residents recycled 3,474 tonnes of food waste. Food waste caddies can be ordered online: https://www.cotswold.gov.uk/bins
Contact Information
Cotswold District Council Communications Team