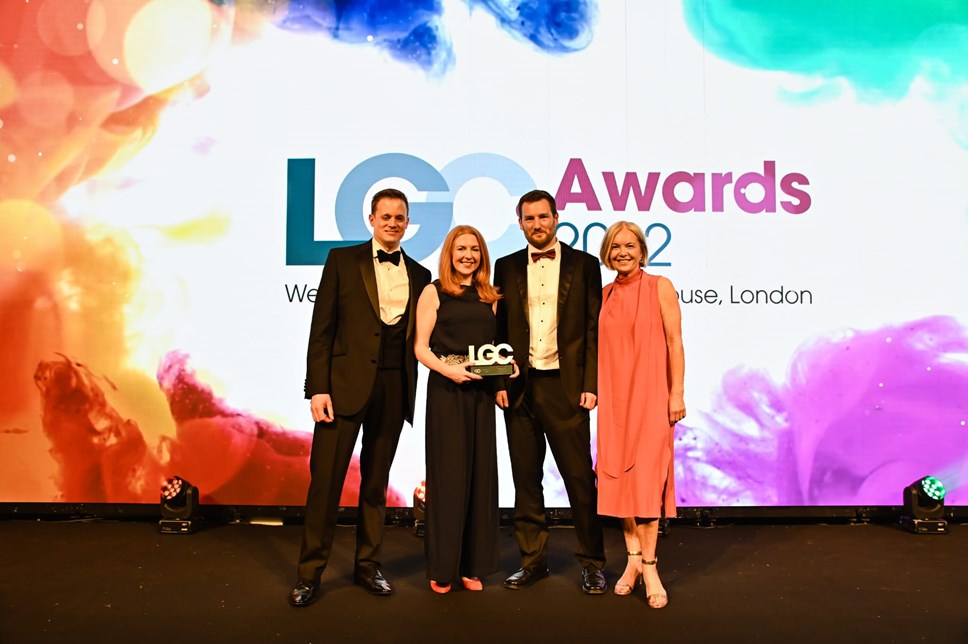 Innovative Crowdfund Cotswold project wins national award for best practice in working with communities
Cotswold District Council's 'Crowdfund Cotswold' project has won the Community Involvement award at this year's Local Government Chronicle Awards. The project won the national award this week (Wednesday 20 July), recognising it as one of the best community projects in the country.
Councillor Jenny Forde, Cabinet Member for Health and Wellbeing, said, "We launched the Crowdfund Cotswold platform as a way to help local communities raise money for local projects that make a real difference and deliver more than the standard approach of the council just handing out small grants.
"It has been incredibly successful and to date over £400,000 has been raised for 24 different projects with the Council putting in £130,000 funding to help.
"It has been a real joy to see the funding helping local community projects from improving local playgrounds and funding local wellbeing support to helping launch the amazing reusable 'Cotswold Cup' to help tackle climate change.
"I would like to thank our residents who are the driving force behind the fantastic projects that have been funded through the platform and everyone who has pledged their support.
"I'm so happy to see the project recognised at a national level up against so many other council projects. I hope it will help others look at how we can use innovative and creative ways to support local communities."
Crowdfund Cotswold is an online community crowdfunding platform, where residents, local businesses, the council and other organisations can all pledge money alongside each other to crowdfund projects that improve their neighbourhoods.
It was launched in 2021 by Cotswold District Council in partnership with Spacehive. To learn more about Crowdfund Cotswold and to create your own project, visit spacehive.com/movement/cc.
Cotswold District Council won the 'Community Involvement' award at the Local Government Chronicle Awards, a national, yearly award ceremony recognising best practices across local government.
Joseph Walker, Community Partnership Officer, said: "The LGC Awards celebrates projects delivered by local authorities across the UK, providing vital services and transforming lives, so it's really rather humbling to have our own contribution recognised, and absolutely a testament to the project creators and supporters who've embraced Crowdfund Cotswold."
The Council was up against many other councils for the award including a number of London Boroughs, city and county councils.
The award judges commented that Crowdfund Cotswold was a bold and brave approach to a tried and tested crowdfunding model that offers a sustainable platform of community empowerment and organisational transformation. The judges were also impressed by the strong political and officer leadership that together enabled communities to thrive through this innovative approach.
Cotswold District Council was also shortlisted for the 'Climate Response' award in partnership with Forest of Dean and West Oxfordshire District Councils for the partnership production of the nationally recognised Net Zero Carbon Toolkit which shows residents and developers how to produce low carbon homes.
Contact Information
Cotswold District Council Communications Team
Notes to editors
More information on the LGC awards can be found on the following website: https://www.awards.lgcplus.com/
About Crowdfund Cotswold:
Crowdfund Cotswold is a community-charged crowdfunding online platform launched by Cotswold District Council in partnership with Spacehive.
The Council is encouraging local businesses to come forward and support local projects in their areas. Companies, foundations and public bodies interested in supporting projects alongside Cotswold District Council should contact info@spacehive.com.
To find out more about Crowdfund Cotswold, visit spacehive.com/movement/cc.
Crowdfund Cotswold has raised over £400,000 towards local projects since its launch with Cotswold District Council awarding £130,000 toward this total. Cotswold District Council's contributions are made up of over £92k in pledges from CDC, and over £37k from the GCC resilience grant the Council manages.
Please feel free to use the embedded video on your websites or social media channels. You can download the video, here: https://we.tl/t-iZ36PUXWRF
About Spacehive:
Spacehive is the only crowdfunding platform dedicated to civic crowdfunding. Its vision is a world where anyone can shape their local area to create places that make people happy, proud and prosperous.
The platform operates a hybrid crowdfunding and grant-making platform that pools funds between councils, businesses, foundations and the local community to pay for projects that improve local places. Projects can range from building a new community centre or improving the local park to improving a playground or putting on a street festival.
Spacehive is increasingly used by local authorities, companies and foundations, as the default way of financing civic and community facilities, since the model gives large numbers of people the opportunity to shape their area and typically results in projects securing 4x more funding than if they were relying on councils funds alone.