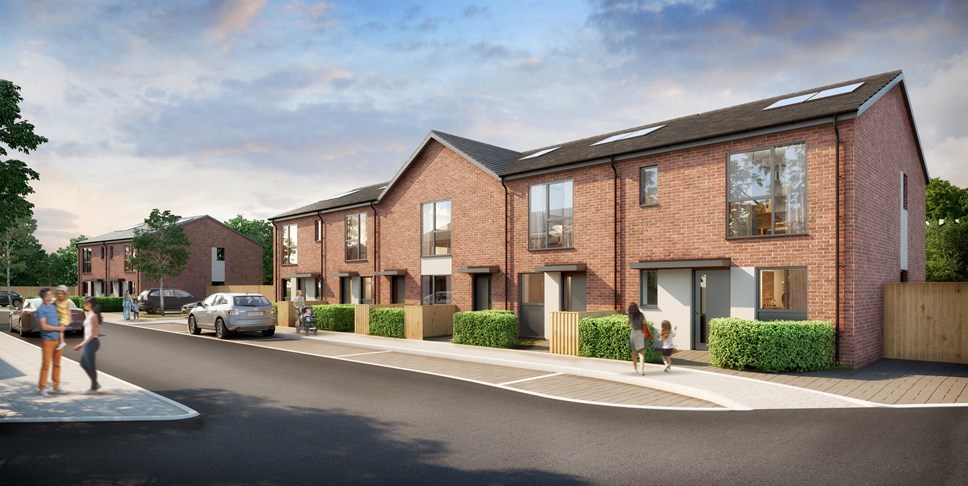 Low-carbon affordable housing scheme in Moreton-in-Marsh is 'first of its kind'
A partnership between Cotswold District Council and Cottsway housing association will bring 15 new low-carbon homes to Moreton-in-Marsh, Gloucestershire.
The new development located in Davies Road will be built by Helix Partnership Homes and will provide 15 homes for social rent, including a mix of one, two and three-bed properties.
Councillor Lisa Spivery, Cabinet Member for Housing, said: "I'm delighted that our partnership with Homes England and Cottsway has been able to enhance this scheme. It will be the first green homes scheme of its kind in the District.
"The Davies Road site was allocated for development in the Council's Local Plan, and our officers worked hard to ensure the development moved from a standard, mixed market development to an 'all affordable' scheme, with an extra grant from Homes England to take the sustainability standards a step further.
"In the face of a growing affordability crisis, we are committed to increasing the number of genuinely affordable homes across the district for local people. Working alongside providers such as Cottsway we can offer people affordable homes, not only at high quality, but that are also more sustainable than standard housing and ultimately better for the environment."
Davies Road is due to be completed in 2024 and will include sustainable features such as air-source heat pumps and enhanced levels of insulation.
Richard Reynolds, Cottsway's Acting Chief Executive, said: "At Cottsway we're always striving to improve and come up with new solutions to help address housing needs. This innovative partnership will be the first of its kind for Cottsway and the council to deliver not only affordable homes but ones which have a range of sustainable features.
"Sustainability and reducing our environmental impact is a priority for us and we're excited to be part of this project."
The development has been made possible with the support of £1.275 million grant funding from Homes England and £580,500 developer funding secured in Section 106 contributions from Cotswold District Council, as well as a loan arrangement as part of a finance agreement between the council and Cottsway. Helix Group is also providing construction finance to ensure the homes can be completed quickly, by May 2024.
The homes for social rent will be advertised on the Homeseeker Plus website nearer to the time of completion: www.homeseekerplus.co.uk. All applicants will need to be registered with Cotswold District Council.
For more information about applying for affordable housing, visit: cotswold.gov.uk/housing
Contact Information
Cotswold District Council Communications Team
Notes to editors
About Cottsway
Cottsway owns over 5,100 homes and provides services to diverse communities across West Oxfordshire and beyond. We house more than 11,000 people and support the wider community by adding social value.
We are determined to do more, and we continue to re-invest in new homes and services for people who cannot afford to buy or rent on the open market. We are able to do this by working with others in genuine partnerships at the same time as transforming the way we run our business.
About Helix Group
Helix Group is an expert in building brilliant homes through its family of Construct, Consulting and Helix Partnership Homes teams. It was founded in 2017 by a group of friends eager to use their decades of large building contractor experience to build an SME business based on customer service excellence and the highest quality standards. Helix works on housing, education and health developments large and small throughout London, the Thames Valley and the wider South East.
For more information please see www.helix.limited