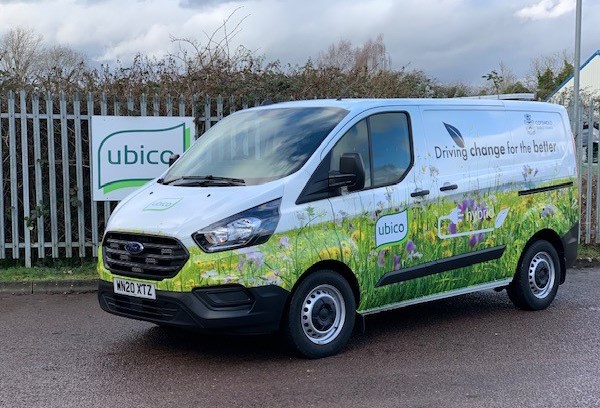 New fleet vehicle uses latest hybrid technology as council takes steps towards a green future
Cotswold District Council has taken delivery of its first hybrid vehicle as part of its commitment to address the climate crisis and signalling the authority's ambition to use 100% clean energy by 2030.
Ubico, the Council's waste and recycling partner will use the new Ford Transit hybrid to support its daily operations.
Able to run on zero-emission electric power, the plug-in hybrid van will help lower the amount of greenhouse gases currently produced as a result of Council functions and is the first step towards the authority's ultimate aim of an all-renewable energy fleet.
The move comes after the council formally adopted its Climate Emergency Strategy in September 2020 and last month pledged to provide more electric vehicle charging points across the district under its sustainable transport plans.
Councillor Andy Doherty, Cabinet Member for the Environment, Waste and Recycling at Cotswold District Council, said: "The arrival of the Council's first hybrid van is significant and one of many changes we will be making to deliver on our climate agenda. Transport accounts for 45% of emissions in the district so looking at how we can reduce this within our own council-run operations has to be a priority. While the hybrid will not run solely on electric power, our reliance on vehicles powered by fossil fuels needs to become a thing of the past if we are to fully realise the benefits of a sustainable transport system.
He continued: "There are huge transformations underway in 'green' vehicle technology and the pace of this change is accelerating. As part of the Council's wider sustainable transport strategy we will be looking at what other changes we can make, including investment in ultra-low emission vehicles for our waste fleet, and as the technology develops, the use of zero emission vehicles able to travel in a large, rural district such as ours."
Councillor Rachel Coxcoon, Cabinet Member for Climate Change and Forward Planning at Cotswold District Council said: "In addition to what we can do corporately, we must actively support Cotswold residents to make the switch to cleaner transport too. This can only be achieved with a 'fit for purpose' infrastructure in place. This is why more electric vehicle charge points will be made available in out towns and villages, making it easier for residents to make greener choices in the future."
Cotswold District Council's Climate Emergency Strategy can be found at: https://www.cotswold.gov.uk/ClimateEmergency
Contact Information
Cotswold District Council Communications Team
Notes to editors
Transport accounts for 34% of emissions in the UK (Source: DBEIS – March 2020)
Transport accounts for 45% of emissions in the district (Source: Cotswold District Council Climate Emergency Strategy 2020-2030)
Cotswold District Council declared a climate emergency in July 2019
Electric vehicle charging points exist at Cotswold District's car parks in: Moreton-in-Marsh (Old Market Way) and Cirencester (Beeches and Whiteway).
Cotswold District Council aims to make its activities net-zero carbon as soon as possible, aiming for an 80% reduction against a 1990 baseline by 2030, and a 100% reduction by 2045, with no reliance on offsetting or the trading of carbon credits.