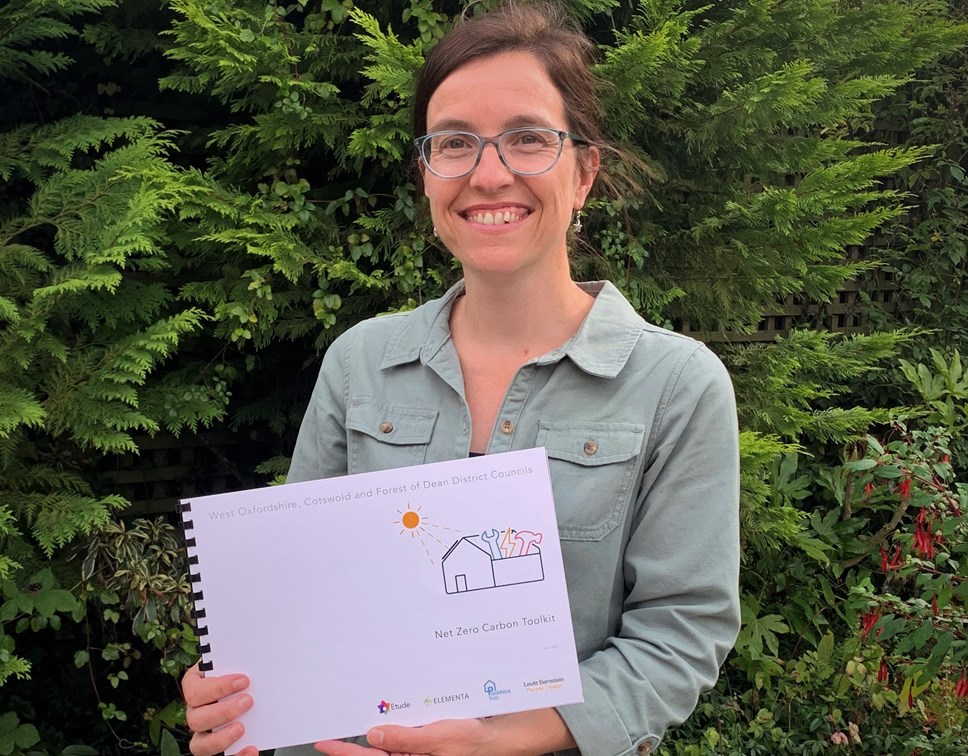 New toolkit shows the way forward for zero-carbon homes in Cotswold District
Cotswold District Council has joined forces with Forest of Dean and West Oxfordshire District Councils to develop an innovative zero-carbon homes toolkit, showing builders, architects, developers and homeowners how to make new build or retrofit projects 'green to the core' as the Council pushes forward with plans to help make the district carbon neutral.
While following the guidance is not mandatory, the Net Zero Carbon Toolkit sets the standard that the District Council would like to see embodied in future planning policy.
Cllr Rachel Coxcoon, Cabinet Member for Climate Change and Forward Planning at Cotswold District Council, said: "We are delighted to launch the Net Zero Carbon Toolkit which has been produced in collaboration with two partner councils and leading technical experts, which we hope will help future building projects in the district and beyond achieve net zero carbon emissions."
"There's lots of advice, targets, standards and technology options out there, and smaller builders and developers often don't have the staff and resources to deal with this complexity. We hope the toolkit will help cut through the confusion and act as a 'go-to' reference manual for green builds. It is primarily aimed at builders and architects but is also useful for self-builders as well as residents extending or retrofitting their homes and their contractors. Each section is packed full of easy-to-follow advice, covering each stage of the build process from pre-planning right through to construction and products on the market."
Recognising that the challenge of decarbonising existing homes is much bigger than building zero-carbon new homes, the guide also covers where carbon and energy gains can be made through retrofitting a range of measures to existing properties, such as switching to low-carbon heating systems and investing in renewable energy options like solar panels.
Cllr Coxcoon continued: "Making modifications to an existing property definitely doesn't have to be expensive or out of reach for the average person. To help residents make decisions which are right for them and their pocket, the toolkit offers indicative costs for different elements which could be incorporated around the home to save energy, starting from as little as £20."
Larger works, such as installing wall insulation, solar panels or triple glazing, will require greater upfront investment, which is why the guide encourages homeowners to plan ahead and introduce low-carbon measures in a phased and affordable approach. But the very big positives in all of this work are greater comfort, better air quality and lower bills, as well as making a contribution to the great challenge of reducing climate damaging carbon emissions.
"If we are to reach the UK's target to reach net zero by 2050 we need to share resources and learning so that everyone can make the right choices when it comes to low-carbon homes. From the outset, we have designed the toolkit to be adapted and used by other local authorities, but commercial organisations are welcome to disseminate it too, to help widen the climate emergency response."
The toolkit has been produced following Cotswold District Council securing funding from the Local Government Association Housing Advisers Programme, which supports local authorities seeking to innovate in meeting the housing needs of their communities.
The toolkit is available to download from Cotswold District Council's website: www.cotswold.gov.uk/netzerocarbontoolkit
Contact Information
Cotswold District Council Communications Team
Notes to editors
Notes to editor:
The Net Zero Carbon Toolkit has been written by Etude, the Passivhaus Trust, Levitt Bernstein and Elementa Consulting and overseen by climate officers from Cotswold, West Oxfordshire and Forest of Dean District Councils.
Photo shows:
Cllr Rachel Coxcoon, Cabinet Member for Climate Change and Forward Planning at Cotswold District Council holding a hard copy of the Net Zero Carbon Toolkit.