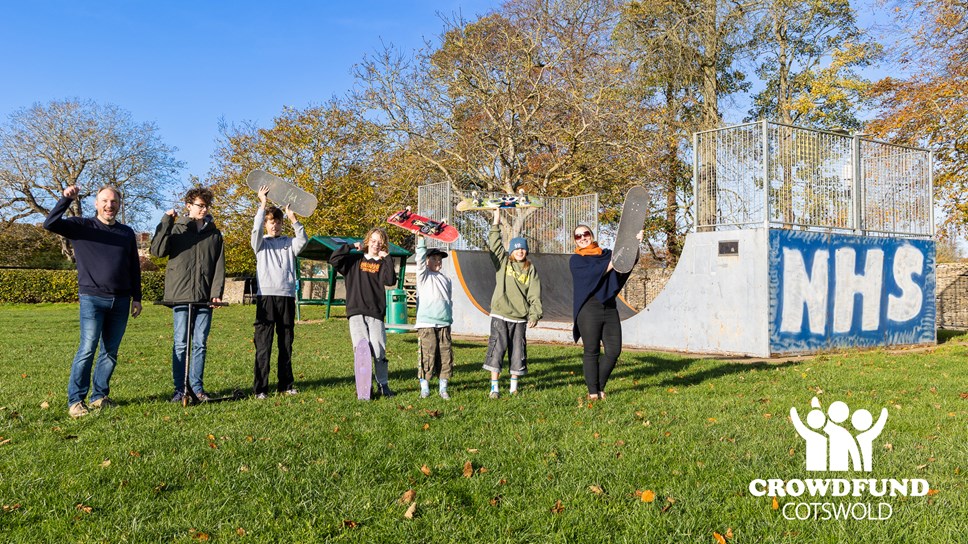 Over half a million raised for hyperlocal projects using Crowdfund Cotswold
Crowdfund Cotswold, Cotswold District Council's online crowdfunding platform has raised over £540,000 in less than two years thanks to support from local residents, community groups and businesses.
Cllr Jenny Forde, Cabinet Member for Health and Wellbeing, said: "Crowdfund Cotswold has been such a success! And it's all thanks to our wonderful communities here in the Cotswolds that we've been able to reach such an incredible milestone!
"The District Council has pledged over £29,000 to three more projects so far in the latest round of funding and we can't wait to see what our residents bring forward next.
"I would encourage everyone to come forward with their ideas no matter how big or small. You don't have to be a registered charity or group - just a resident with a great idea to shape your local area and the future you want."
Cotswold District Council has supported three more projects in the latest round of Crowdfund Cotswold with more projects being considered. The three projects include; the exciting Skatepark for Fairford project, the resident-led Bledington Playground Appeal, and the incredible Cotswold Friends Connecting Community project.
The Skatepark for Fairford project is fundraising to create a skate park in Fairford that encourages skateboarders and scooter riders of all abilities to enjoy skating, learn from each other, and get outside and play.
Cllr Steve Boulton, Mayor of Fairford Town Council, said: "The generous grant from Cotswold District Council takes us significantly past the halfway mark for our project and goes to show all the residents, businesses and organisations, who have pledged their support so far, that their enthusiasm for this project has been recognised by the District.
"We are really excited to see this project take off and help to create an inclusive, safe space for people to skate, play, socialise and learn in the heart of our community."
Bledington Parish Council has partnered with a group of local residents to turn the existing old playground into a fantastic new play facility at the heart of the community.
Cllr Ros Gaskell, Bledington Parish Council, said: "We are delighted to have received funding from Cotswold District Council towards our Playground Appeal. This vital funding will help us meet our goal of £30,000 to bring new equipment to our village playground.
"We thank Cotswold District Council for their important contribution to this project, along with Bledington Parish Council, Gloucestershire County Council's Build Back Better Fund, and generous individuals who have also pledged their support. An improved playground will bring joy to so many children both in our village and from surrounding rural communities, and will help strengthen the community spirit of the area."
Cotswold Friends Connecting Community project is fundraising to provide services to support older people with volunteer-led community services, activities and practical help, enabling them to live independently at home for longer
Jo Hammond, Chief Executive of Cotswold Friends, said: "I want to thank Cotswold District Council for such a generous pledge to our Connecting Community crowdfund campaign. Thanks to all the support we've received from the community and the District Council, we'll be able to assist older and vulnerable residents with IT support, to alleviate their loneliness and help them access the practical support they need to stay independent, healthy, and well in these challenging times.
"It really will make a difference to many local people's lives if we can reach our target of £16,353 by 13th December. Every donation, however big or small, helps us towards our target so we can access all the funds that have been pledged."
If you are interested in raising funds for your own ideas you can get started today by visiting the Crowdfund Cotswold website and creating your own project page.
People and organisations can pledge as little as £2 towards a project. To view all of the active projects in the Cotswolds, please visit the Crowdfund Cotswold project page: spacehive.com/movement/cc/projects.
Contact Information
Cotswold District Council Communications Team
Notes to editors
About Crowdfund Cotswold:
Crowdfund Cotswold is an award-winning community online crowdfunding platform launched by Cotswold District Council in partnership with Spacehive.
The Council is encouraging local businesses to come forward and support local projects in their areas. Companies, foundations and public bodies interested in supporting projects alongside Cotswold District Council should contact info@spacehive.com.
To find out more about Crowdfund Cotswold, visit spacehive.com/movement/cc.
About Spacehive:
Spacehive is the only crowdfunding platform dedicated to civic crowdfunding. Its vision is a world where anyone can shape their local area to create places that make people happy, proud and prosperous.
The platform operates a hybrid crowdfunding and grant-making platform that pools funds between councils, businesses, foundations and the local community to pay for projects that improve local places. Projects can range from building a new community centre or improving the local park to improving a playground or putting on a street festival.
Spacehive is increasingly used by local authorities, companies and foundations, as the default way of financing civic and community facilities, since the model gives large numbers of people the opportunity to shape their area and typically results in projects securing 4x more funding than if they were relying on councils funds alone.