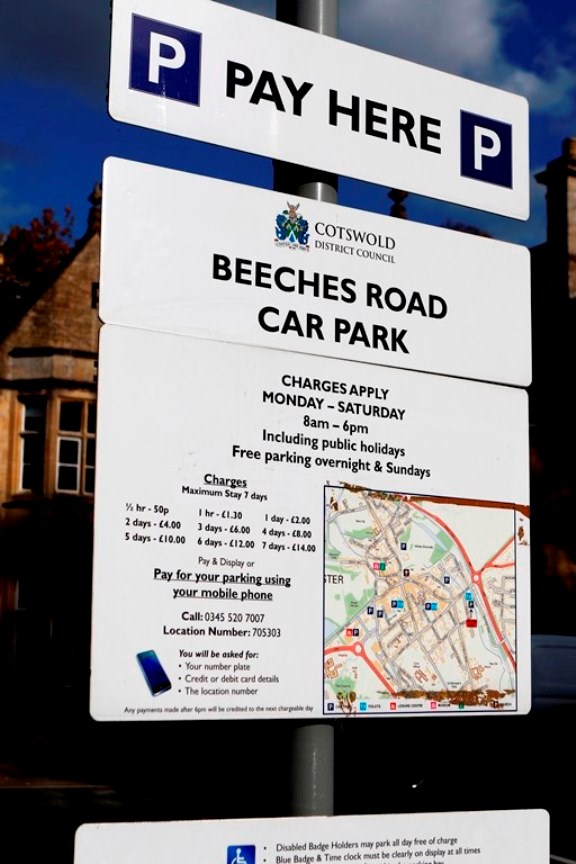 Parking charges to resume in the Cotswolds next week
As lockdown eases, parking charges will resume in the Cotswolds next week and ticket machines will come back into use, but for those working in the NHS and for care workers, the Council is offering free parking in its car parks until 31 August 2020.
Parking charges in local car parks have been suspended since 24 March when COVID-19 safety restrictions put ticket patrols on hold.
With the country now slowly beginning to move out of lockdown, and small changes in public behaviour as some of us travel a little further from home, Cotswold District Council is responding.
From Monday 1 June, car parks across the District will start charging again alongside new safety measures.
Residents will once again need to purchase a ticket or pay by phone when parking their cars.
With public safety in mind the Council has introduced a number of new measures.
The first is a safety poster, issued by the British Parking Association. The poster lets drivers know that cashless parking is available and that the machines are cleaned regularly. It reminds users to keep two metres apart and advises them to use hand sanitiser or wash their hands soon after using a ticket machine. However, the Council advises drivers to pay by phone where possible.
Even though the risk is small for any driver who has a parking fine placed on their car windscreen, all Civil Enforcement Officers will wear disposable gloves and masks whilst on duty.
All parking charges remain the same as before the lockdown.
A full list of car parks and parking charges can be viewed at www.cotswold.gov.uk/parking-travel-and-visitors/where-to-park/
For those working in the NHS and for care workers, the Council is offering free parking in its car parks until 31 August 2020.
From Monday 1 June NHS staff and care workers are invited to apply for a free parking permit online at https://www.mipermit.com/kwpermits.aspx
Cllr Mike Evemy, Deputy Leader and Cabinet Member for Finance said, "We recognise the change in public behaviour over the last few days as the national restrictions begin to ease and our residents start to venture a little further from their homes. So, as a Council, we're beginning to prepare for the end of lockdown and we're getting ready to see more people out and about. With more people expected to be using our car parks over the summer our regular patrols will return.
"We'll be introducing some new safety measures, but where possible please do pay by phone. If you intend to pay with cash or by card, please remember to bring your hand sanitiser with you or wash your hands before touching your face.
"Since we turned off the ticket machines in March we've missed out on nearly £500,000 in budgeted revenue. This is money that we would have invested into our public services, so now we need to restart charging to stop that revenue gap getting even bigger.
"For NHS staff and care workers we're introducing a new free parking permit. We understand that in responding to the COVID-19 pandemic, it is essential for them to carry out their vital work without worrying about paying for car parking. We don't want to see them struggling to find and pay for parking near work or at a vulnerable person or patient's home. We hope this special offer will make their lives a little easier at this time."
The Council is reminding residents that they can park for free all day on Saturdays, Sundays and Public Holidays at the staff car parks at Cotswold District Council, Trinity Road, Cirencester, GL71PX and St James's Place, Hammond Way, Cirencester, GL7 1FP (next to the Leisure Centre). Both car parks are less than a 5 minute walk from town.
The following car parks continue to remain free after 3pm every day until further notice:
The Brewery, Cirencester
The Forum, Cirencester
West Street, Tetbury
Church Street, Tetbury
Rissington Road, Bourton on the Water
Maugersbury Road, Stow on the Wold
Old Market Way, Moreton in Marsh
At the request of local residents, and following concerns about sanitation, the council has today reopened the public toilets at Bourton-on-the-Water. Anyone taking exercise in the village who then uses the toilets is reminded that they do so at their own risk. They are also advised to use hand sanitiser before entering and wash their hands thoroughly afterwards.
All other public toilets in Cotswold district will reopen on Monday 1 June.
Contact Information
Cotswold District Council Communications Team
Notes to editors
The exception to this is The Chipping car park in Tetbury which restarted its charging on Monday 18 May.