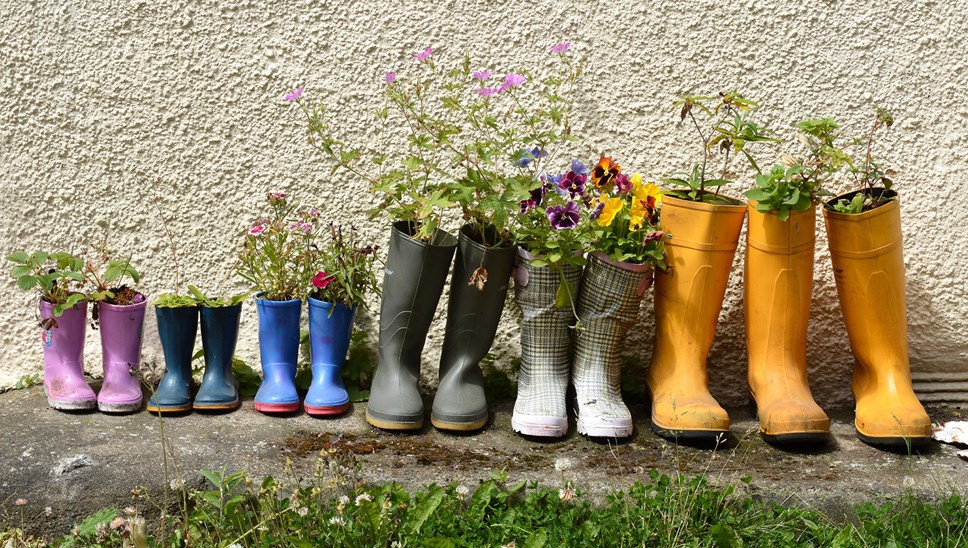 Plan to improve green and open spaces shared with Cotswold District residents for their feedback
Residents are invited to contribute and work with Cotswold District Council on their Green Infrastructure Strategy, which will aim to boost green and open spaces as part of the Council priority to respond to the climate and ecological emergency and produce a plan for the future of the Cotswolds that is green to the core.
The proposals include more places to exercise, improving cycle routes and footpaths to support safe and sustainable travel, creating more 'natural' play areas for the young, building desirable places to live and work and incorporating green areas that support wildlife habitats and mitigate climate change.
Councillor Rachel Coxcoon, Cabinet Member for Climate Change and Forward Planning at Cotswold District Council, said: "The draft Green Infrastructure Strategy is one of a number of documents that will support the Council's commitment to tackle the climate and ecological emergency. It may sound dry but it will sit at the heart of how we go about improving our natural and built environments to help mitigate against the impacts of climate change and inform planning decisions.
"There are some brilliant ideas in this draft plan looking at helping sustainable travel, boosting local wildlife and others ways we can address climate change in the district.
"Tackling the climate emergency and improving our open spaces will have so many positive benefits for the Cotswolds and we would love to get residents' input on our plans for achieving this."
The new strategy outlines a number of key recommendations that could be taken to benefit the district as a whole, as well as focusing on the seventeen settlements where major development is most likely to happen.
Members of the public and key stakeholders are now invited to share their views on the strategy, which will be going out to consultation from 14 June and will close on the 26 July.
Covering a wide variety of open spaces and green features, green infrastructure typically includes parks, playing fields, woodland, allotments and private gardens but can include sustainable drainage features - used to alleviate flooding and water pollution - urban planting, cycle tracks and Public Rights of Way as well as 'blue' features such as streams and other waterways.
Councillor Coxcoon continued: "Green spaces - even small ones - contribute massively to the environment, whether that be through supporting our wildlife or acting as a sink to take in carbon dioxide from the atmosphere and improve air quality. Well-managed green infrastructure also underpins a vibrant economy by keeping the Cotswolds as an attractive area where people want to work, live and visit.
"But the value of green infrastructure goes further. Over the past year, more and more of us have looked to the outdoors to support our mental health and physical well-being. Part of the strategy also addresses how green and open spaces can provide greater opportunities for healthier lifestyles and recreational activities, by making current places and amenities more accessible but also by considering how we relate to our outside spaces, how we use them and what people see as a priority going forward."
Created using the Building with Nature national benchmark, which supports the delivery of high quality green infrastructure at all stages in the development process, the strategy will provide an evidence-base for future planning policy by the Council and used to support future inward investment and funding opportunities.
The final version of the strategy will be used to inform the district's Local Plan, which sets a framework for future planning decisions, including how the Council will meet the need for new homes, employment, open spaces, schools and leisure facilities.
The draft Green Infrastructure Strategy can be found on the Cotswold District Council website (www.cotswold.gov.uk/greeninfrastructure). Copies of the document are available to view at all district libraries as well as the Council offices at Trinity Road, Cirencester and the Moreton in Marsh office. Hard copies can be obtained on request by contacting the Council's customer services team on 01285 623000.
Contact Information
Cotswold District Council Communications Team
Notes to editors
Notes to Editor
Building with Nature was originally developed by the Gloucestershire Wildlife Trust and the University of West of England with support from a wide partnership including Cotswold District Council. The benchmark is now used across the country (www.buildingwithnature.org.uk)
Why has GI become more important?
Parks, open spaces, access to the countryside and the appreciation of nature have emerged as increasingly important. There has been a vast number of surveys, across the country that support this view. The National Trust (NT) Summer Solstice Poll found that nearly 70% of adults in the UK said that spending time noticing nature around them has made them feel happy during lockdown and that since lockdown interest in nature has risen by 33%, particularly in the 25-34 year old age group. However, there is still an urgent need to address the inequalities regarding access to the countryside for all.
It is not just access to open spaces that have captured peoples' imagination during the lockdown. Applications for council-run allotments in England have soared during the coronavirus pandemic. In August, this year, the National Allotment Society (NAS) reported that 40% of English councils responded to a survey to say that they had experienced a "significant uplift" in applications to join waiting lists during April. This has also been reported by many of our own Town and Parish Councils.
The seventeen key settlements identified in the strategy are:
South Cotswold: Cirencester, Down Ampney, Fairford, Kemble, Lechlade, South Cerney, Tetbury
Mid Cotswold: Andoversford, Bourton on the Water, Northleach, Stow on the Wold, Upper Rissington
North Cotswold: Blockley, Chipping Campden, Mickleton, Moreton in Marsh, Willersey