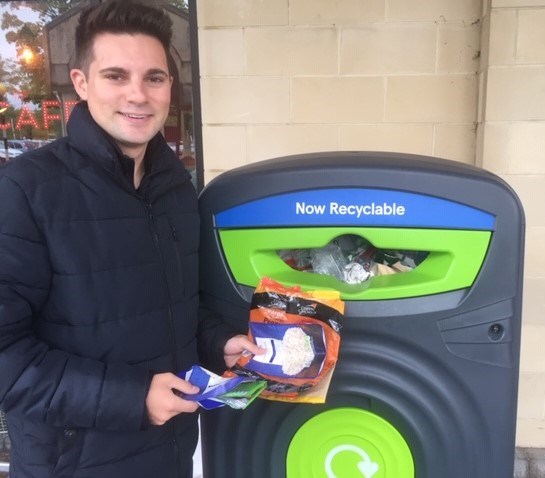 Praise for recycling scheme
Leader of Cotswold District Council Joe Harris has given a big thumbs up to a new recycling scheme being pioneered at three supermarkets in the region
Leader of Cotswold District Council Joe Harris has given a big thumbs up to a new recycling scheme being pioneered at three supermarkets in the region.
Tesco's Metro and Extra stores in Cirencester and its Superstore in Tetbury are all taking part in a trial with the recycling specialist, Recycling Technologies, to collect the hardest to recycle plastics such as crisp packets and turn them into an oil.
The oil, Plaxx, will then be used to make new plastic.
Joe said: "Recycling plastic is very much in the news, not least because of the impact discarded plastic is having on our planet. This kind of initiative is to be welcomed, as anything that can reduce the amount of waste plastic has to be good for the environment.

"Although some plastics are routinely collected for recycling, others, like sweet wrappers and plastic bags have proved harder to recycle and as someone who loves crisps and sweets this looks like a very positive step forward and means I've got a (slightly!) clearer conscience!

"I hope people will take advantage of this new opportunity to dispose of these traditionally hard to recycle forms of plastic and the new administration at Cotswold District Council will look at ways in which we can provide a similar service for residents at our offices."
Collection booths are located at the stores and will take:
Crisp packets
Sweet wrappers
Plastic film
Pet food pouches
Any plastic bag
For more information on the initiative go to Recycling Technologies website, here: https://recyclingtechnologies.co.uk/2019/04/tesco-trials-technology-that-makes-all-plastic-packaging-recyclable/
Contact Information
Cotswold District Council Communications Team