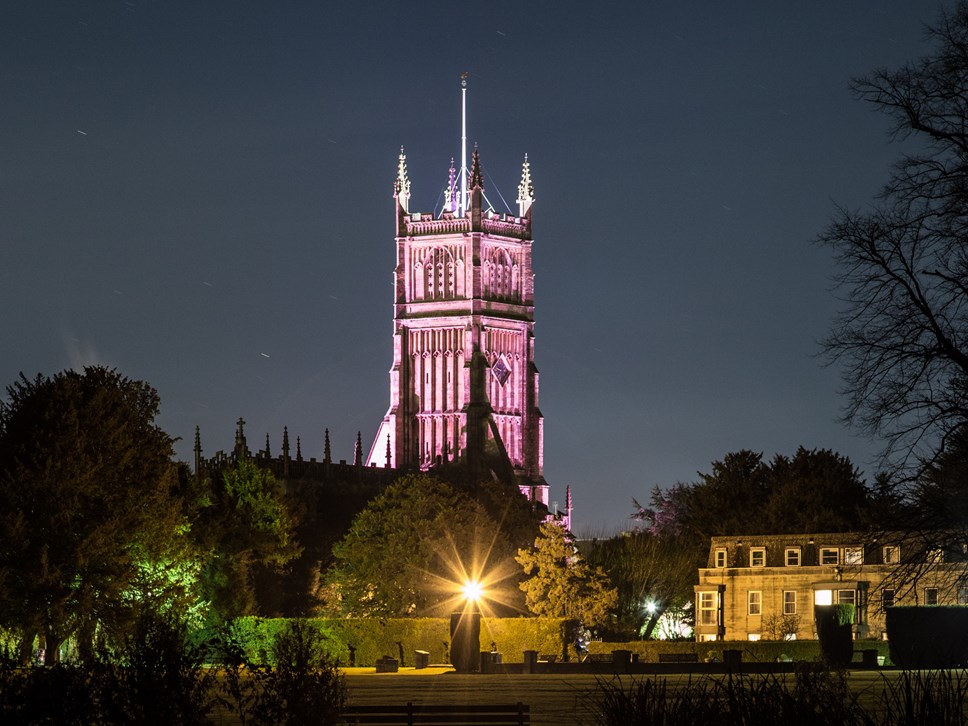 'Raise Your Voice' against Domestic Abuse and Sexual Violence
Cotswold District Council (CDC) is supporting the 16 Days of Action campaign to raise awareness of domestic abuse and sexual violence, particularly in rural areas.
From Wednesday 25 November (International Day for the elimination of violence against women) until Thursday10 December (Human rights day), the council will be working with partners across the district to raise awareness and encouraging residents to 'Raise Your Voice' against domestic abuse.
The Cotswold Community Safety Partnership (CSP) is launching a Domestic Abuse Group to focus specifically on the Cotswolds. The aim of the group is to bring local agencies together, to directly improve the lives of those who live in the Cotswolds who are affected by abuse. The first meeting of the group will take place on 27 November 2020.
The group will be comprised of the CDC's Community Wellbeing and Housing teams, Gloucestershire Domestic Abuse Support Service (GDASS), Gloucestershire Police, Gloucestershire Fire and Rescue, Cirencester sixth form college, Royal Agricultural University (RAU), local housing providers, RAF Fairford, Young Gloucestershire, The Churn project and many others.
Cllr Jenny Forde, Cabinet Member for Health and Wellbeing at CDC and Chair of the CSP, said: "Domestic abuse or violence can happen to anyone and it's so important that we stop thinking it doesn't happen here. Covid-19 has increased the risk of domestic violence with instances of abuse being exacerbated by lockdowns and isolation. That's why we are asking everyone to 'Raise Your Voice' and help shine a light on the District and in doing so, you may be able to help a neighbour, friend or child that has been suffering.
"In support of the campaign, we will be lighting up the Cirencester Baptist Church in purple again this year. It would be so wonderful if everyone could go purple over the course of the 16 Days campaign to help raise awareness. Wear purple, display purple, light up purple - please help by showing your support and share them with us on social media.
"The pandemic has taught us a lot about the kindness and generosity of our residents. It's also changed people's perceptions too. People appear to be more ready to talk about what has been such a taboo subject for so long. I believe our District will be keen to express to victims that they are not alone, especially at this time of year."
For more information about support for domestic abuse, please visit the Gloucestershire Domestic Abuse Support Service (GDASS) website: https://www.gdass.org.uk/
The Survivor Pathway is an online resource for anyone wanting to know more about specialist sexual violence support services in the South West.
Contact Information
Cotswold District Council Communications Team
Notes to editors
Domestic Abuse Facts:
An estimated 2.4 million adults aged 16 to 74 experienced domestic abuse in the last year. *
During the first three months of lockdown, the National Domestic Abuse helpline reported more than 40,000 calls were made. *
Witnessing domestic violence or emotional abuse were the most commonly experienced types of child abuse. *
* Office National Statistics, 2019
16 Days of Action (or activism) against gender-based violence is an international movement which aims to challenge violence against women and girls. The campaign runs every year from 25 November, the International Day for the Elimination of Violence against Women, to 10 December, Human Rights Day. 25 November is also White Ribbon Day, where men are encouraged to wear a white ribbon and pledge never to commit, excuse or remain silent about male violence against women.
The Survivor Pathway is an online resource for anyone wanting to know more about specialist sexual violence support services in the South West. The Survivor Pathway was a concept created and implemented by Somerset and Avon Rape and Sexual Abuse Support (SARSAS), who recognised the need for an integrated online resource for all sexual violence support services for the local area. With help from NHS England, the Office for Sexual Health South West and Public Health England the site was repurposed to cover the entire South West region. Access the website here: https://bit.ly/3jafDBr
Gloucestershire Domestic Abuse Support Service (GDASS) is a county-wide service designed to reduce the level of domestic abuse and improve the safety of victims and their families. For more info, visit: https://www.gdass.org.uk/