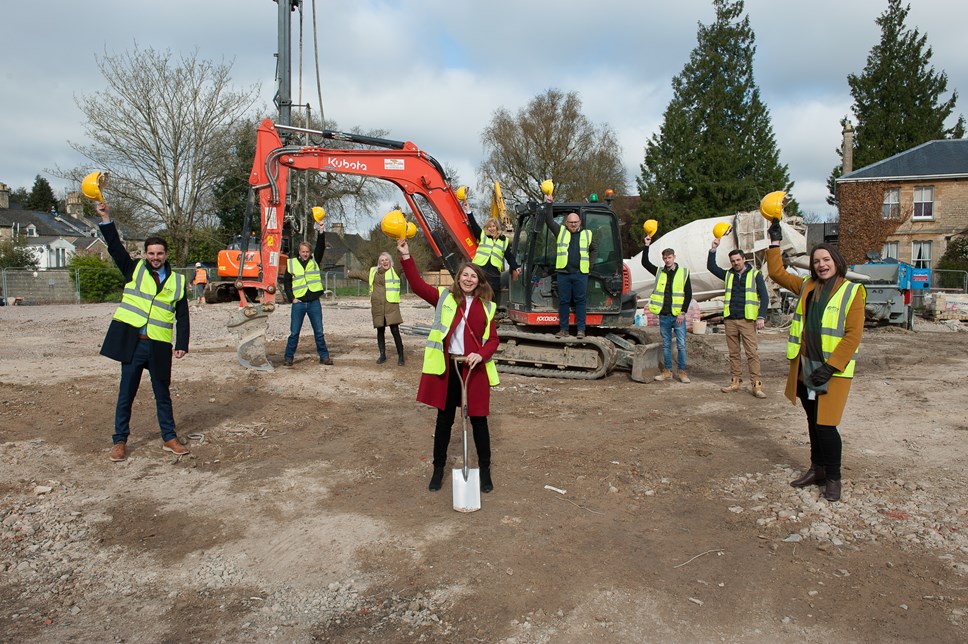 Regeneration of brownfield sites in the Cotswolds helps to provide over 100 affordable homes for local people
Cotswold District Council continues to build upon its commitment to provide truly affordable housing for local communities by regenerating existing sites to provide modern and affordable homes for the people who need them most.
In recent years, Cotswold District Council has approved over 100 affordable homes in Cirencester and Kempsford through a range of regeneration schemes in partnership with Bromford Housing.
Cllr Lisa Spivey, Cabinet Member for Housing and Homelessness, said; "In the face of a growing affordability crisis, we are committed to increasing the number of genuinely affordable homes across the district for local people.
"The fundamental role a secure home plays in every aspect of our lives cannot be underestimated; literally everything grows from that space, and for those who find themselves in insecure tenancies or homeless, it can be difficult, if not impossible, to engage positively with the world.
"That's why we have been working hard with housing providers to deliver on our ambitions to deliver truly affordable housing for local people through a range of regeneration schemes and new affordable housing projects across the Cotswolds.
"It's brilliant to see developments like these that are not only affordable but also more sustainable than existing housing, benefitting not only our local communities but the environment as well."
Cotswold District Council and Bromford Housing have recently completed a regeneration scheme to update and replace existing affordable housing that was no longer fit for purpose in Paterson Road, Cirencester, providing 36 affordable rent and shared ownership homes, built to modern energy efficiency standards, for local residents. While new regeneration schemes in Cross Tree Crescent and Oakley Flats, Kempsford, and Leaholme Court, Cirencester are set to provide 27 new flats, houses and bungalows for social rent and 44 new flats at affordable rents.
The Council offers free and confidential housing advice to individuals, families, and landlords in the Cotswold District. If you require housing support you can speak to one of our housing advisors or book an appointment by calling 01285 623000.
For more information on housing support offered by the Council, please visit: cotswold.gov.uk/housing
All social housing in the Cotswolds is let through Homeseeker Plus and any residents who wish to apply will need to complete an online application form. Applicants will then be allocated a band that sets out the property size you are eligible for before you can place bids on potential properties.
For more information about Homeseeker Plus and to register, visit: homeseekerplus.co.uk
Contact Information
Cotswold District Council Communications Team
Notes to editors
For Information:
Apply to Rent with Homeseeker Plus
All social housing in Gloucestershire is let through Homeseeker Plus.
To find and apply for housing you will need to:
register with Homeseeker Plus;
be allocated to a band that sets the size of property you are eligible for
view weekly adverts of homes available across the partnership area
express an interest or bid for up to three properties that you're eligible for per week
Households only need to apply once and will have access to a larger range of affordable housing.
If you are not able to use the online form for whatever reason, please contact your local Homeseeker Plus team for more advice.
For more information visit: www.homeseekerplus.co.uk
Apply for shared ownership
Shared ownership is available to those people who are not able to buy a property suitable for their needs outright on the open market. Ownership is joint between yourself and a Housing Association so you pay both mortgage and rent on the property. You purchase a share between 25% and 75% of the property's market value and you pay a subsidised rent on the remaining share. Most schemes will allow you to purchase a greater share in the property after you have made the initial purchase and you may be able to eventually own your home outright.
Help to Buy Agent for the South is the Agency for the South of England including Gloucestershire. You will need to register with the Help to Buy Agent for the South to be considered for shared ownership and other low-cost home ownership schemes.
Please visit the Help to Buy Agent for the South website for further information on shared ownership and the range of low-cost home ownership schemes, including the Help to Buy Equity Loan Scheme visit helptobuyagent3.org.uk/ or telephone 0800 456 1188.